Inhalt
State Ministry of Economic Affairs, Labour and Transport
Saxon State Minister of Economic Affairs, Labour and Transport and Deputy Prime Minister, Mr. Martin Dulig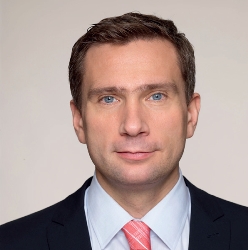 Biography
Holder of a degree in Education, born on 26th February 1974 in Plauen, married with six children and lives with his family in Moritzburg. Martin Dulig grew up together with three siblings in Meißen. In 1983, his family moved to Moritzburg. As a young man, he got to know the Junge Gemeinde (Young Community), not only as a Christian community but also as an organisation of young people, in which the ideas of democracy and tolerance were known and practiced even before the transition in 1989. These ideas contributed to Martin Dulig's decision to join the SPD following the reunification of Germany.
After beginning his vocational training (with grammar school-leaving certificate) as a skilled construction worker in 1990, he became a member of the SPD two years later. From 1992 to 1998, he worked as a youth education trainer for the SPD in Saxony. Together with friends, he founded the Network for Democracy and Courage Association in 1999, an organisation of which he is still the Federal Chairman. As a co-founder of the Saxony Young Socialists, Martin Dulig was its State Chairman from 1999 to 2004. In 2000, he was elected to the SPD State Executive Committee for the first time. In 2004, he graduated from the Dresden TU with a degree in Education.
During his university training, he worked on a freelance basis as a trainer in adult education. Since 2004, Martin Dulig has been a member of the Saxony State Parliament. Following three years as Parliamentary Manager, in 2007 he assumed the office of floor leader, a position in which he was most recently confirmed in September 2014. Since 2009, Martin Dulig has also been Chairman of the Saxony SPD. In 2014, he led the SPD in the electoral campaign for the state elections. In addition, Martin Dulig works in various non-profit associations as well as being active in the ver.di trades-union and the Workers' Welfare Association (AWO). In his adopted home town of Moritzburg, he is a member of the municipal council.

back to top