Inhalt
Living in Germany, welcome to Saxony!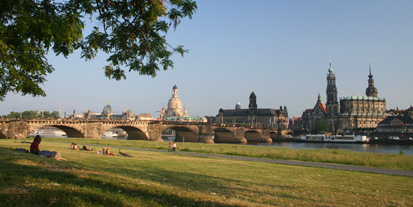 Saxony offers a high standard of living, and is an attractive business location. In order to preserve Saxony's economic strength and competitiveness in the long-term, we need qualified, educated people. International exchange is an important component here. Well trained and motivated people from abroad strengthen the economy and create jobs. Promoting the migration of qualified specialists is one of the Saxon state government's proclaimed aims. Whether or not you need a visa or residence permit depends on which country you come from and the purpose of your stay.
Entry, stay, work
The entry conditions for citizens of the European Union member states differ from those applicable for citizens of third-party states, i.e. countries not belonging to the European Union. EU citizens and citizens of the European Economic Area (EU states plus Norway, Iceland and Liechtenstein) are free to travel and work in Saxony and Germany. Citizens from the two new European Union member states – Romania and Bulgaria (joined on 1 January 2007) -, certain conditions may be applied for a transition period of up to seven years, and these may limit the free movement of workers from, to and between the new member states. The restrictions only affect freedom of movement for the purposes of commencing work, and may vary depending on the member state.
NOTE: Citizens from the new member states of Romania and Bulgaria require an EU work permit in Germany.
The AKZESS project is aimed at qualified foreign specialists from third countries (highly qualified persons, workers, researchers, self-employed persons, PhD candidates, graduates from German universities, students participating in an integrated degree programme) who are planning to live in the state capital Dresden, the city of Chemnitz, or the district of Mittelsachsen. It is a standardised process seeking to ensure foreign specialists gain fast access to the Saxon employment market. A decision on the residence permit is guaranteed within four weeks. AKZESS will also be starting up in Leipzig in autumn 2012.

Studies
It is a good idea to complete all or part of your studies in Saxony. Students from EU or EEA states or Switzerland do not need a visa. You must register with the local authorities within two months. Students from Australia, Israel, Japan, Canada, the Republic of Korea, New Zealand and the United States of America do not need a visa to enter Germany. However, if you wish to stay longer, you will need a permit. A visa is mandatory for students from other countries.
Release note
Saxon State Ministry of Justice and for Europe, Saxon State Ministry of the Interior, Saxon State Ministry for Science and Art. 20/12/2012