Inhalt
Labour-law provisions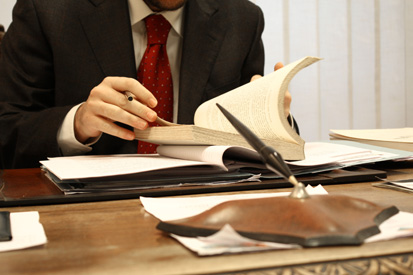 The professional sphere in Germany is governed by various rules. Labour law, collective agreements and individual employment contracts define the employers' and employees' rights and duties.
Work permit
Whether or not you need a work permit depends on factors such as which country you come from. The following chapter contains information on the conditions under which you, as a foreigner, need a work permit.
Employment contract
An employment relationship is made official by virtue of an employment contract. This type of contract does not need to follow a specific form; it can be concluded verbally or in writing.
TIP:
If you insist on written form, both parties – employer and employee – have greater legal security.
An employment contract should contain at least the following details:
Address of both parties – the employer and employee
Job description
Place of work
Start date and, for temporary contracts, duration of the contract
Salary
Number of leave days
Agreed working hours
In the event of a probation period, the number of months (but maximum six months)
NOTE: If employment contracts end, through termination or dissolution agreements, this must be done in writing in order to be considered effective; electronic form is not permitted (§ 623 of the German Civil Code). In the case of temporary employment contracts, this only applies during the agreed period.

Salaries and wages
The employment contract between the employer and employee should clearly stipulate wages/salaries, and these must be appropriate.
If the employer is bound to a collective agreement, this agreement applies. It may be industry-based or company-based. Collective agreements are concluded between the respective employer associations or between individual employers and the labour unions.
Collective agreements generally only apply if the employer himself is one of the parties, or is a member of the employer association concluding the contract, and the employee is a member of the labour union concluding the contract, or if the employment contract refers to a collective agreement.
Collective agreements can also be deemed generally binding for certain industries, in which case they relate to all employees in the respective industry, and must also be applied by the employers who are not members of the employer association concluding the contract.
PLEASE NOTE!
The legal norms of a nationwide collective agreement also apply to employment relationships between an employer based abroad and its employees working in the contractual territory under the conditions stated in paragraphs 4 to 6 of the German Posted Workers Act (AEntG) if the collective agreement has been declared as generally binding, or a relevant legal regulation exists in accordance with § 7 AEntG. These rules are always industry-based.
Since 1 January 2012, a legal regulation based on the German Law on Temporary Employment (AÜG) has been in effect in relation to temporary employment, stipulating a minimum wage for all employees working in the industry.

Release note
Saxon State Ministry for Economic Affairs, Labour and Transport. As at: 20/11/2012