Inhalt
Childcare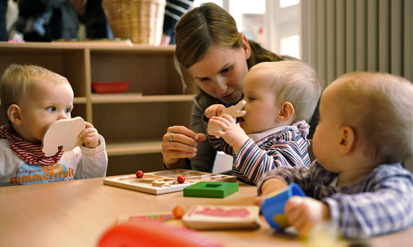 Saxony offers a wide range of options when it comes to looking after infants and primary-school children. In order to take advantage of these services, your legal or usual place of residence must be in Germany/Saxony.
Crèche or day-care centre for children under 3
Infants and small children aged at least 6 months in Saxony can be looked after at crèches or day-care centres. In exceptional cases, care can also be provided for younger children. The administrative districts and urban municipalities in Saxony are legally obliged to make an adequate number of places available at care facilities.
Kindergarten for 3 to 6-year-olds
All children aged three and over can attend kindergarten. This entitlement has been firmly established by law. Kindergartens not only help your child become familiar with the German language and children from the neighbourhood, they also prepare them intensively for primary school when this is necessary.
Childcare up to grade four
If your child already goes to school, they have the option of attending afterschool care. In Saxony, the administrative districts and urban municipalities are legally obliged to find a place for every child at an afterschool care facility when necessary.
Childcare – Parents pay too
You also pay towards your child's care. Please ask your local public youth welfare provider (generally the Youth Welfare Office) or the respective childcare facility provider about the exact amount. You can request a discount or waiver of the parent contribution from your Youth Welfare Office. This requires you to provide proof of income to the contributions office.
Release note
Saxon State Ministry of Education and Culture. As at: 20/04/2012