Inhalt
Archaeology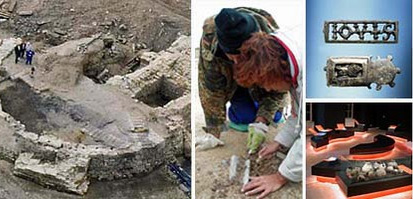 Welcome to the homepage of the Archaeological Heritage Office in Saxony
On the following sides we will be informing you about the agenda and activities of the Archaeological Heritage Office. We will also provide news from the dynamic archaeological rescue and research scene here in Saxony and inform you about current and planned exhibitions our Museum is and will be showing in Dresden's beautiful Japanese Palace. You will also find information and news about related activities, shows and events in the region as well as links to interesting sites. We hope to present you this information in a clear modern format and welcome your opinions, commentaries and critiques and will of course try to answer any enquiries you may have to the best of our abilities.
Heritage Management
Saxon Archaeologists are facing the challenge of heritage management in the context of rapid and fundamental changes in urban structure and landscape use which have accompanied Saxony's post socialist transformation. The response has been three pronged. Firstly an inventory of archaeological monuments ranging from the Palaeolithic to the Medieval period has been made involving over 20,000 sites. Yet this seemingly large amount is just a small and random sample of the total amount lying in the soil. The fact that most archaeological sites are invisible to the naked eye has led us to make extensive use of geophysical prospecting and above all aerial photography in order to establish areas of archaeological relevance. We have digitalized site Information and are producing reliable maps using the Geographic Information System in order to be an effective part of the planing process.
While it is our priority to preserve archaeological sites for future generations whenever possible, we have also developed an effective rescue program in order to salvage as much information as possible if destruction is inevitable. This involves a co-operative strategy, which regards the investors and construction companies as partners. The necessary archaeological investigations are integrated into the planing schedule in so that our activities are part of a smooth working process involving reliable time limits and financial budgeting. The Saxon Archaeological Heritage Service carries out the excavations and controls the project and financial management.
A further important aspect of heritage management is the integration of our rescue activities in research programs and the expedient publication of our results. A high level of research quality is made possible by the fact that our library that includes some 70.000 volumes is the 3rd largest in the former GDR. A series of research programs are being carried out in cooperation with other institutions including leading German and foreign universities. Moreover generous grants from the central German Research Organisation (DFG) has made it possible to carry out long scale research programs. The annual periodicals, Archäologie Aktuell and the Arbeits- und Forschungsberichte zur Sächsischen Bodendenkmalpflege and the monograph series Veröffentlichungen des Landesamtes für Archäologie mit Landesmuseum für Vorgeschichte make it possible to publish promptly and in attractive layouts. An effective desktop publishing department make it possible to do this in an effective and inexpensive way.

back to top