Inhalt
DFG-Project Eythra
Eythra, district of Leipzig: A linear pottery settlement and its key-function for our knowledge of Early Neolithic development in Central Germany.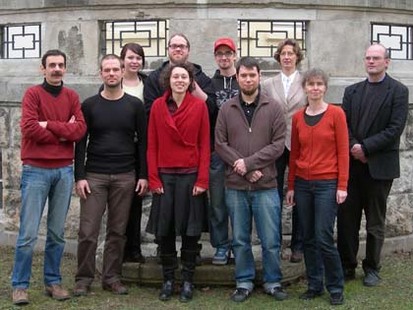 A joint project of the Archaeological Heritage Service and the Chair for Pre- and Early History, University of Leipzig. The Project is funded by the DFG-Deutsche Forschungsgemeinschaft (German Research Foundation).
The excavations conducted in Eythra, south of Leipzig, between 1993 and 2003 have uncovered the largest Early Neolithic settlement (5500 – 4500 B.C.) in Central Europe. The features and finds comprise 25.000 post holes and pits, approx. 300 houses, 120.000 sherds and 8.000 silices, besides two linear pottery wells and a number of ditch- and palisade works. This impressive array of material holds the key to our knowledge of the structures and genesis of Early Neolithic settlements in general.
The project started in January 2009 and is planned for a six year's period. Its objective is to carry out a comprehensive study of all features and finds from the excavations of the Eythra settlement. One of the foremost aims will be a chronology of the ceramics. The only chronology extant for Saxony so far was drawn up by Edith Hoffmann in 1963, using not-closed finds, and is in need of urgent revision.
The site in Eythra was settled for almost 1000 years, thus offering a perfect opportunity to study the development of house construction from linear pottery to stroke ornamented pottery cultures. These studies will serve as a basis for modelling the evolution of this settlement. They will be complemented by an analysis of the lithic and botanical finds. This comprehensive approach will help us to draw a complex, diachronic and synchronic picture of the social, economic and ecologic aspects of the Early Neolithic settlement.
Many of the problems discussed in the research of the linear pottery culture today can be reviewed with new data from a new site. This will lay the foundations for further studies of the numerous Early Neolithic sites along the Elster river as well as other regions ins Saxony and will eventually lead us toward an archaeology of entire landscapes.

back to top