Inhalt
Archaeology and Agriculture
Innovative conservation of archaeological sites in an intensively used agricultural landscape – the Lommatzscher Pflege, district Meissen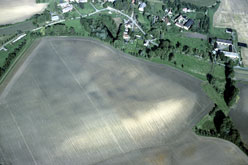 This research project is funded by the Deutsche Bundesstiftung Umwelt / German Foundation for the Environment. The landscape around Lommatzsch is dominated by intensive agricultural usage. Farms with over 2000 hectares run by agricultural companies and single fields of more than 100 hectares are no exception in the area.
Its soil is one of the most fertile in Germany and the favourable conditions have attracted settlers for thousands of years. Archaeological finds date from medieval times to the bronze age and as far back as the Neolithic, ca. 5.000 B.C.
The implementation of modern tilling techniques in the past 100 years, e.g. deep ploughing, have led to the discovery of many archaeological sites. In fact, farmers were the first "archaeologists" in the area, some of them collecting considerable numbers of finds. Today we know about 650 archaeological sites on 350 km². These however represent only one quarter of the estimated total number of sites.
Many archaeological monuments in the Lommatzscher Pflege are threatened by ploughing, intense usage of chemical fertilizers and erosion. It is the goal of this project to find ways of preserving the archaeological heritage known and yet unknown without hampering agricultural businesses. This, of course, can only be achieved in close cooperation with local farmers. Shallow ploughing and precision sowing can be effective means to avoid both erosion and damage to archaeological monuments.
The project uniting farmers, archaeologists, environmental agencies and other state institutions is unique in Germany and may serve as a model for projects elsewhere in the country.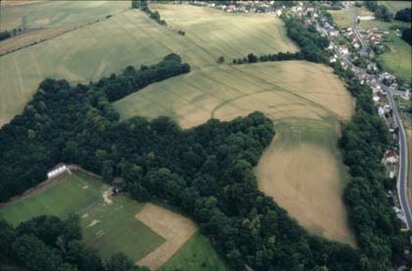 back to top