Inhalt
The German Federal Council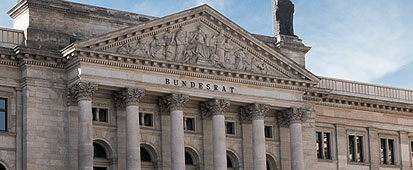 Saxony in the German Federal Council
The Free State of Saxony, as do all other federal states, contributes to legislation as part of the Federal Council. The number of votes held by each state within the Federal Council is dependent on the population of the individual federal state.
Saxony holds 4 of the total of 69 seats. The Federal Council is made up of members of the various state governments. Currently, Saxony is represented by Stanislaw Tillich, Thomas Jurk, Geert Mackenroth, and Dr. Karl Johannes Beermann.
The Federal Council is directly involved in the legislative procedure. It can present draft legislation to the Bundestag, and all legislation is submitted to the Federal Council for voting.
If a draft legislation is supported by the required majority in the Bundestag, it is then submitted to the Federal Council as law. If the Federal Council does not ratify the draft, the Conciliation Committee may be called upon. The Conciliation Committee consists of an equal amount of members from the Bundestag and the Federal Council. If the decisions of the Conciliation Committee differ from those of the Bundestag, a new resolution will have to be made in the Bundestag.
In case of a legislation requiring consent, the consent of the Federal Council is a mandatory requirement. These may be laws concerning finances and administration jurisdiction of the federal states, or laws which will change the constitution.
In case of objection laws, the Bundestag has the power to ratify, even if no agreement was reached by the Conciliation Committee. Here too, however, a new vote in the Bundestag will require an absolute majority for ratification.

back to top