Inhalt
Representative Office of the Free State of Saxony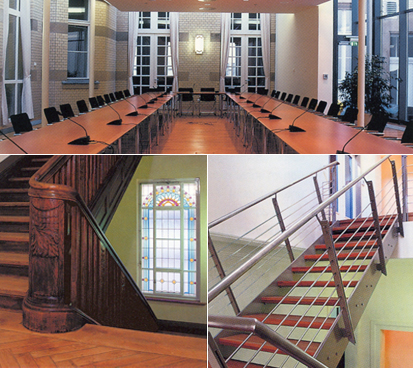 Each German federal state has a representative office in Berlin. The individual representative offices are interconnected both formally and informally. Frequent exchange between these offices is of high importance for their political work, and contributes to the decisionmaking process.
The representative office of Saxony represents the interests of the Free State in the federal government. It assists in the preparation of sessions of the Federal Council, monitors and observes the sessions of the Bundestag and its committees, and informs the Saxon State Government about all relevant political developments.
Furthermore, the prime ministers and state ministers of various federal states hold meetings at the representative office of Saxony. It is the meeting venue for minister conferences and summits of other high-level political representatives of the federal and state governments.
The Representative Office of the Free State of Saxony also acts as propagator of Saxon interests. It is the first point of contact for citizens, institutions, parties, embassies, press, radio & television, churches and associations looking for information.
The office represents the Free State of Saxony nationally with a broad spectrum of different events. It is a sort of shop window for Saxony.

back to top