Inhalt
Coat of Arms
Saxon Coat of Arms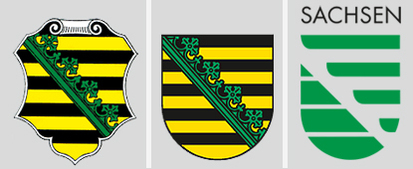 The shield on the Saxon coat of arms is subdivided in gold and black nine times. A string of green diamonds dissects the shield from the top left to bottom right.
The diamonds in the saxon coat of arms most likely refer to the Dukes of Saxony-Wittenberg renouncing their patrimonial lands in Lower Saxony-Lauenburg around 1200. The diamonds are styled in the gothic ornamental form.
Historical
The Saxon coat of arms dates back to the Lower Elbe-Lower Saxony dynasty of Ascanian dukes, which reigned in the 11th century between the foot of the Harz Mountains and Fläming.
When the Ascanian dynasty ended in 1422, the German emperor Sigismund awarded the dukedom and the title of Elector of Saxony to the margrave Frederick the Warlike of Meissen. Becoming the Elector of Saxony gave him the right to be one of the seven princes to elect the German emperor. With the title of Elector of Saxony, the coat of arms too was transferred to the Wettin dynasty, and made its way up the Elbe river, as did the name 'Saxony' itself.
The Free State, which was founded in 1918, builds directly on the traditional Axon coat of arms with its black and gold striped shield and diagonal diamond band. In 1990, the newly formed federal state adopted the traditional coat of arms.
While the administrative bodies of the Free State use the coat of arms in its simplistic, straight form, the Landtag has adopted a baroque version as its insignia. The coat of arms may also be inserted in central location on the Saxon state flag.
Saxon State Signet
Saxony's state signet is an emblem. It may only be used by specific individuals and state bodies. These include the Saxon State Government, the Prime Minister, the Chairman and members of the Saxon Landtag and authorities as well as courts and notaries of the Free State of Saxony. The exact rules and regulations regarding the use of the state emblem are included in the Saxon State Government Ordinance.
In order to allow associations, companies, clubs and other private institutions to show their affiliation with the Free State, the Saxon State Government has issued a state signet in 1993. This signet can be used freely by anyone.
Some people found the state signet too modern and too simplified. The Saxon State Government therefore decided to issue another state signet on January 1, 2005. The new signet has stronger similarities with the Saxon state emblem, and is now available for use in addition to the older state signet.

back to top