Inhalt
Flag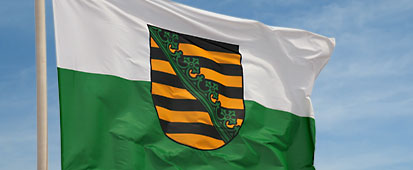 What are the Origins of the white and green Flag?
The state colours of Saxony are white and green. The flag is - in a historical context - quite young. On May 22, 1815, during the War of Liberation, Saxon king Frederick Augustus I conferred the command of the Saxon troups on the Rhine to lieutenant-general von Lecoq. In order to avoid confusion between friend and foe, Lecoq was instructed to have the white emblems on the troop uniforms edged with a broad green border.
The news of the new colours traveled ahead of the king returning home with his troops. Upon his arrival in Dresden, Frederick Augustus I was met by a sea of flags in the new white and green. Students along their route sported white and green ribbons in the lapel. Soldiers wore the emblem in its new colours, and officials had tied ribbons to their hats.
The fresh colours became the symbol for a new beginning after the heavy losses of the War of Liberation.
The Flag of the Free State
The Free State of Saxony adopted the white and green flag of the demised kingdom in 1918. Since then, the flag was supplanted twice: The national socialists replaced it with the swastika, and after the dissolution of the state of Saxony, and subsequent implementation of three administrative districts for the GDR, it was replaced by the GDR flag after a short postwar-renaissance. Since 1990, the white and green flag has once again become the official state flag, continuing its original Saxon tradition.
Ensigns of the Free State of Saxony

The state flag (green and white) can be used freely by anyone. Only state bodies with their own coat of arms, except members of the Landtag and notaries, are permitted to display their coat of arms on the state flag (state service flag).

back to top