Inhalt
Minister of Education
Brunhild Kurth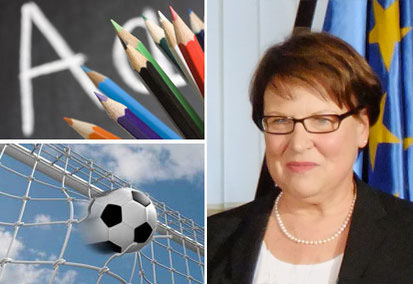 Short CV
Born on 28 April 1954 in Burgstädt, married, one child
1972 to 1976: Studied at Martin Luther University Halle-Wittenberg, graduating as a qualified biology and chemistry teacher
1976 onwards: Worked as a teacher
1990 onwards: Principal of Gymnasium Burgstädt grammar school
2001 onwards: Head of Division 35 – Gymnasien (grammar schools), Abendgymnasien (night schools), Kollegs (colleges) – at the Saxon State Ministry of Education and Sports
2004 onwards: Director of the Zwickau regional education authority of the Saxon Education Ageny
2007 onwards: Director of the Saxon Education Agency
2011 onwards: Director of the Chemnitz Regional Office of the Saxon Education Agency and permanent representative of the Director of the Saxon Education Agency
Since 22 March 2012: Saxon State Minister of Education and Cultural Affairs
2015 President of the Standing Conference of the Ministers of Education and Cultural Affairs of the Länder in the Federal Republic of Germany
Duties
The Ministry of Education is the supreme schools supervisory authority. It is responsible for:
Pre-school and school education at children's day centres, general schools, vocational schools and evening classes
Planning of education, curriculum design, planning for school development and school assessment
Promotion of full-time education
Teachers' issues
Education and further development of teachers, organisation of examinations for teachers
Recognition and assessment of educational qualifications
Promotion of the German language abroad, including sending teachers to other countries
Testing and recognition of tests for interpreters and translators
Trans-regional and international issues in educational policy
Sorbian school issues
The Ministry is also responsible for sports issues and cultural education, as well as support for the construction of schools and playing fields. The German name »Kultusministerium« (which has roots in both "Cult" and "Culture") reflects the traditional link between education and the church. Thus, general issues of the churches and religious communities that affect the relationship between church and state are also dealt with here.
The Ministry of Education is co-responsible for lifelong learning, in cooperation with other Ministries. The Sächsische Landeszentrale für politische Bildung (SLpB, Saxon State Centre for Political Education) provides political education on a cross-party basis.
The Ministry of Education works with numerous partners. These include in particular the state educational council, the parents' council, the students' council and the advisory commission for adult education.
Political Priorities
Education opens opportunities for the future for every individual and for our state as a whole.
All pupils in Saxony should be able to develop their abilities, strengths and talents to the greatest extent possible. This should include practical knowledge, skills and values, and also a culture of learning, imbued with a spirit of tolerance and partnership and a delight in movement and sport.
I want to assist teachers with their work and responsibilities. Together, we will look for ways to create bases to ensure the necessary teaching resources, increase social appreciation of this profession, and strengthen the individual responsibilities of schools.
It is crucial to get off to a good start. With the integration of pre-school and school education, our two-tier school system and our new teaching timetables, we have laid a good foundation on which we must build further.
Children belong in the centre of our society. Intensifying the cooperation of schools and children's day centres with parents, other educational establishments, businesses and voluntary partners is therefore very important to me.

back to top