Inhalt
Constitution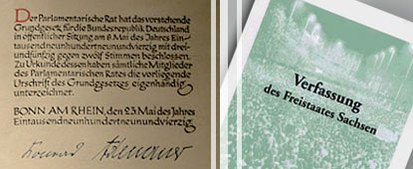 Saxon Constitution
Following the 'Peaceful Revolution' in Germany, a state structure was reinstituted in the area of the former GDR in 1990. Since then, Saxony has once again become a Free State.
The Constitutional and Legal Committee appointed by the Landtag based their work on the new constitution on various drafts. The first draft was presented in March of 1990 by the Dresden-based 'Group of 20'. Shortly after, a workgroup was formed to generate the 'Gohr's Draft Constitution' with broad participation of the public. The draft was introduced into the Saxon Landtag by the local CDU and FDP factions, and supported by the SPD. In parallel, the 'Leipzig Professor's Draft' (Leipziger Hochschullehrerentwurf) was produced, which was supported by the Linke Liste/PDS and Bündnis 90/Green Party factions.
The currently valid constitution of the Free State of Saxony was finally announced on May 27, 1992. The Saxon Landtag ratified the constitution with the required two-thirds majority on June 6, 1992. It came into force on the same day.
Constitutional Text
The constitution regulates the most important aspects of social life in the Free State of Saxony in 141 articles. These include basic rights, the Landtag and the state government, but also legislation and jurisdiction, churches and religious communities.

back to top