Inhalt
Lubuskie/Poland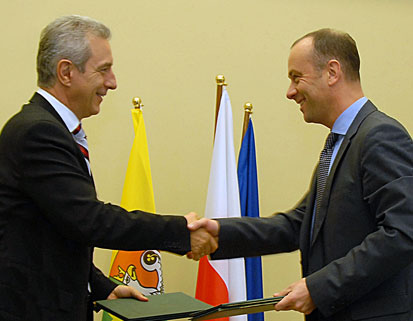 The Saxon border with the Lubuskie Voivodship is just 13 kilometres long. However, the Free State of Saxony works closely with the Voivodship, thanks to several "Joint Statements" on cooperation. The benefits of the partnership have already been shown in the preservation of historical monuments, such as the Fürst Pückler Park project in Bad Muskau. A further "Joint Statement" was agreed in 2008, confirming the regional partnership and securing cooperation for a further five years.
Portrait of the region
The Lubuskie Voivodship offers a rich choice of cultural sights and is seen as an attractive local recreation area. The former Lebuser region crosses the border to Brandenburg and on the Polish side includes the lake area near Lagow. Because of its varied beauty and ecological significance, it was chosen as "European landscape of 2003/2004" by the Presidents of the national associations of Friends of Nature International.

Zielona Góra/Grünberg is the regional capital of the Voivodship, with around 120,000 residents. The old vineyard town is notable for a delightful historic city centre and has numerous interesting cultural facilities.


back to top