Inhalt
Karlovy Vary/Czech Republic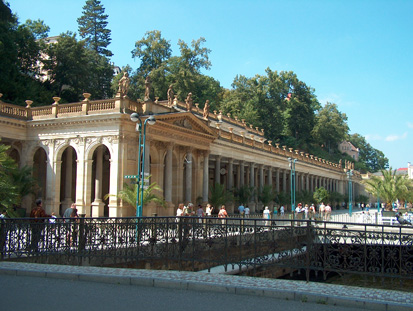 The district of Chemnitz and the Karlovy Vary (Karlsbad) region have been working closely together since a »Joint Declaration« was signed on 23rd May 2002.

Karlovy Vary is the westernmost region of the Czech Republic and the smallest after Liberec. It is made up of three districts – Cheb, Karlovy Vary and Sokolov. Its land area of 3,314 km² makes up 4,2% of the total Czech Republic. It has 304,000 residents. The seat of the regional administration and the largest municipality is Karlovy Vary itself.

The economic structure is highly diverse. The priorities in Karlovy Vary and Cheb are the spas and tourism. The Sokolov district is known for its brown coal mining and energy, chemical and machine tool industries. However, traditional economic activities such as the manufacture of glass, porcelain, Becher liqueur, mineral water, musical instruments and textiles also play a significant role.

Its mineral water springs have made Karlovy Vary the largest centre of spas in the Czech Republic. Visitors have patronised the west Bohemian spas as far back as the Middle Ages. There is said to be a mineral spring here for every ailment. As early as in the 19th century, the healing water was bottled in clay flasks with metal seals and exported around the whole world.

However, there is also much to interest tourists in the region apart from the spas. Attractive locations to visit include the historic town centres of Cheb, Loket, Jachymov, Ostrov and Horní Slavkov and the many palaces and castles of the region. Visitors interested in culture will also find many attractions in the region – festivals, contests and shows.

The mountainous region, especially the Ore Mountains and the Kaiserwald (Emperors Forest), brings in visitors all the year round. Winter sports fans are offered numerous descents, cross-country tracks and other features. In summer, there is a choice of extended hiking routes, golf and riding centres. Water sports enthusiasts enjoy the Ohřa, Rolava, Tepla and Střela rivers. In recent years, the network of cycle paths has been greatly extended, connecting not just to neighbouring locations but also to the cycle routes in Germany.


back to top