Inhalt
Ústí/Czech Republic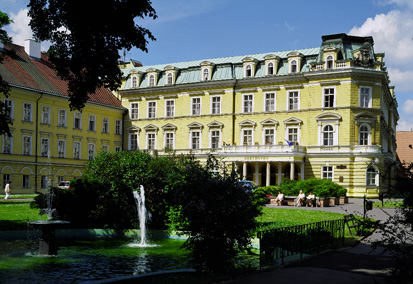 The state directorates of Dresden and Chemnitz confirmed their cooperation with the region of Ústí (Aussig) in a »Joint Declaration« on 5th February 2007.

The Ústí region has a 250-kilometre long border with Saxony. A natural boundary is formed by the line of mountain ridges of the Šluknov foothils down to the south-western corner of the Ore Mountains. The region covers a land area of 5,335 km². 821,000 people live here, around 8% of the population of the Czech Republic.

Ústí was one of the 14 regions created as part of the reform of local government in the Czech Republic on 1st January 2001.

The region can look back on a tradition of trade and the development of industry, agriculture and transport routes over several centuries. The trunk roads, the rail lines and the Elbe are key to the current development of the region. In addition to the development of industry, tourism has boomed in recent years.

The Ústí region is rich in natural beauty. Krušné hory, Lužické hory, the Bohemian central mountain range, the bizarre shapes of the Tisová Wall rock formations, the "Saxon-Bohemian Switzerland" and the beautiful Elbe valley are very popular with tourists. Other attractions include the mineral springs of Teplice and Bílina, among others, as well as the thermal springs in the area, including the outdoor pools in Ústí nad Labem and Děčín. Anyone interested in palaces and castles is spoiled for choice here. The state palace of Krásný dvůr, the castle of Střekov and the state palace of Libochovice are all particularly recommended.


back to top