Inhalt
Agriculture and Environmental Protection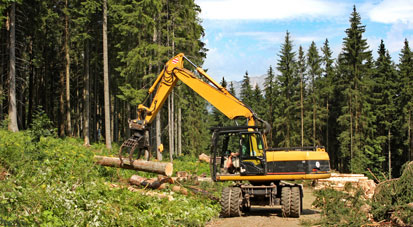 Saxony, Poland and the Czech Republic work closely together in the fields of agriculture and environmental protection. This was formally agreed on 6th September 2004 in the project »Cross-border environmental alliances between the Free State of Saxony, Poland and the Czech Republic«.

Cooperation on these issues is a matter of course in the Euroregions. An example is the development of an internet gateway in four languages on the trans-regional topic of woods and forestry management.

Joint air pollution control
Joint successes have already been achieved in this particular field. As part of an EU project, Poland and the Czech Republic were able from 1989 to 1999 to reduce emissions in the »Black Triangle« for sulphur by 92%, for nitrogen oxide by 80% and for particles by 96%. In addition, ambitious plans were implemented to reduce harmful emissions from industry, transport and households. As a successor to the project, a further trilateral effort is in progress, focusing on air pollution control, forests and environmental law.

The diverse air pollution control plans show again that in the field of climate protection we can and must work together. For example, the plans in Görlitz also affect Zgorzelec, the Polish part of the same city.

Joint committees
The Free State of Saxony takes part in various committees dealing with cross-border cooperation with the Republic of Poland and the Czech Republic.

Saxony is for example a member of the German-Polish University. This body is currently working on major joint projects under the auspices of the BMU (German Ministry for the Environment) and their counterparts in Warsaw. The German states of Brandenburg and Mecklenburg-Vorpommern are also involved in addition to Saxony. The Free State also shows its commitment to environmental protection through participation in the German-Czech Environmental Commission.

An issue of particular importance to Saxony is protection of the river boundaries. The Free State is therefore a member of both the German-Polish and German-Czech river boundary commissions. Saxony is also active in the International Commission to Protect the Elbe (IKSE) and the equivalent body for the Oder (IKSO).

The International Commission to Protect the Oder against Pollution (IKSO) is run under the auspices of the environmental ministries of the treaty partners, Poland, the Czech Republic and Germany, as well as the EU. Working groups specific to particular technical aspects operate under the IKSO, including groups to protect the Oder from pollution, to improve flood protection, to secure and improve the ecological potential and to implement the EU Water Framework Directive.


back to top