Inhalt
Culture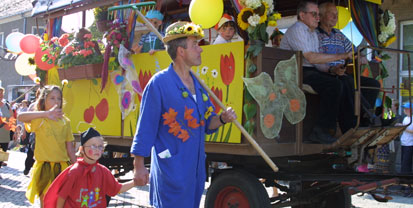 There is an especially lively exchange in the field of culture, which is marked by numerous cultural engagements and many joint cross-border projects. The projects are highly multi-faceted. Everything is included from youth theatre groups of the different countries to cross-border film projects, literature festivals and joint "culture days" with a broad range of events.
Festival of Central Europe
There is a very special annual event in the German-Czech border region: the »Kulturfestival Mitte Europa« (Cultural Festival of Central Europe). The Plauen association »Mißlareuth 1990. Mitte Europa e.V.«, with partners from Bavaria and the Czech Republic, organises concerts, exhibitions and meetings in the entire border region. The project is supported partly by the Saxon State Ministry for Science and the Arts.
The European city of Görlitz/Zgorzelec
The Saxon city of Görlitz and the Polish city of Zgorzelec applied jointly in 2005 as the European city of Görlitz/Zgorzelec for the title of »Cultural capital of Europe 2010«. The development of the joint concept crowned many years of cooperation between the cities. In their application, they focused on Europe growing together. Even though the application was not successful, it showed that two cities in different countries and with different cultures can merge into one.
Day of the Saxons
The Day of the Saxons is a particular highlight every year. This, the largest popular festival in the Free State, always attracts many visitors as well as media coverage from the neighbouring states. But Poland and the Czech Republic also take part in the programme itself. Polish and Czech musical groups appear every year during the Day of the Saxons and delight the public.

back to top