Inhalt
Employment & Econmy
What Effects will Demographic Change have on the Employment Market in Saxony?
In comparison with other federal states, Saxony has a high percentage of employed individuals, who contribute towards social insurance (per 1000 inhabitants).
But the demographic trend will also effect the employment market. The number of Saxons of working age will decrease more dramatically than the number of inhabitants. At the same time, the average age for employed individuals will increase.
The percentage of people of working age will decrease by about one fifth by 2020. The Saxon employment market will therefore have a noticeably smaller pool of employable individuals to draw from.
On average to date, more young people have entered the employment market in Saxony than older people have left it. This will be reversed from 2010 onwards, which means that young people will not be able to replace the volumes of older people at a ratio of 1:1. In the coming years, particularly the supply of professionals in highly qualified fields is not expected to meet demands. Most affected will be the sectors of engineering, sciences, and the medical field. As a result, the demand for professionals may decrease, if for example innovative companies forego the foundation of subsidiaries or the expansion of existing facilities due to the lack of qualified people.
Development of the Potential for Working Age Individuals in Saxony until 2020 (with the value from the year 2000 equaling 100%)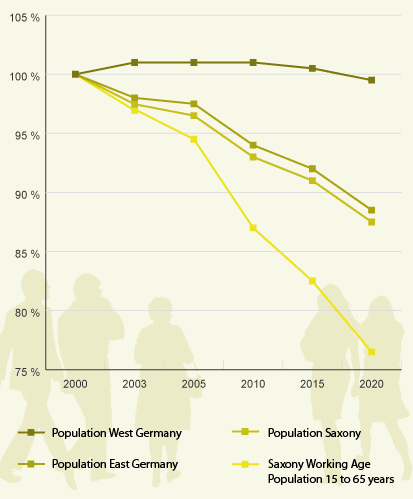 Does a Decrease in Population mean less Unemployment?
Not everyone has the same abilities. The workforce is varied in regards to skills and qualifications.
There will be an increased demand in highly skilled professionals, while opportunities for individuals with low qualifications will not experience much change in the employment market.
Due to the high demand for skilled professionals however, it can be expected that chances for young adults entering the employment market will significantly increase.
What does the Change in the Employment Market mean for Companies?
If the pool of individuals of working age is set to decrease in the mid- to long-term, and those available will also be increasingly older, companies will have to adapt.
In recent years, the development of operational knowhow was largely ensured by employing young, skilled individuals, who were entering the employment market. Older employees on the other hand were increasingly sent into early retirement or let go. This method will backfire in future, as the potential of young skilled professionals will continue to decrease. Companies will therefore have to change the personnel policy, and invest in maintaining and developing professional skills and competences of their older employees.