Inhalt
Tourism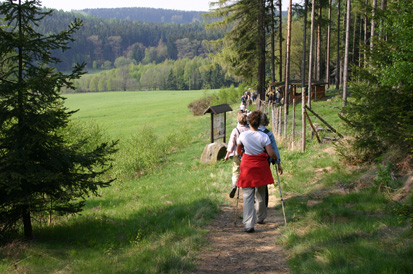 There are numerous hiking and cycle trails across borders between Saxony, Poland and the Czech Republic, from which one can discover the beauty of the region.
The »red ant« hiking trail
The »red ant«-hiking trail extends along the Czech border. The route is around 15 kilometres long, starting at the Sohland/Spree-Rozany border crossing and extending to the tourist border crossing Steinigtwolmsdorf/Severni. The name comes from the red wood ant, which is part of the forest ecology and is seen as a particularly endangered species. Red anthills can of course be inspected near the trail.

This cross-border hiking trail is a project that was started in 1999 by the Crostau gGmbH further education academy for business leaders as part of Interreg II. In the following years, it was extended in several stages by the »Oberlausitzer Holzgestaltung« association, set up by the academy. The first sections of the route were laid by unemployed German and Czech citizens. The latest extensions were done under the state's job creation scheme. Local authorities on both sides of the border are involved in the project.

»Mining – yesterday and today« learning trail
The »Mining – yesterday and today« learning trail is a cross-border cycling and walking route. The trail shows the history of mining and the energy economy that arose from it on both sides of the Neisse from Zittau to Ostritz. There are eight information boards along the 20 kilometre long trail network. Each uses text and pictures to present a particular historical location.

There is an educational trail map for the area in German, Czech and Polish. In addition, an extensive brochure about mining in the region was prepared and also printed in three languages. The learning trail is an important addition to the tourist appeal of the Neisse Euroregion, on all three sides – German, Polish and Czech. This project was supported by the EU as part of the Interreg III A programme.

The old town bridge in Görlitz
The old town bridge in Görlitz has a turbulent past. Built out of wood, the bridge was first referred to in 1298. Over the years, it had repeatedly to be restored, both because of heavy use and due to destruction and damage from fire, floods and acts of war. In 1566, the bridge was covered for the first time and the Spittelturm tower was built at the east end. In 1906/1907, the wooden bridge was replaced by a modern stone bridge with steel arches. On 7th May 1945, soldiers of the German army destroyed the bridge.

The bridge was not rebuilt until 2003, when it became a supported project under the Interreg III A programme. The old town bridge had become a cross-border pedestrian bridge. Today, the old town bridge is a hallmark of Görlitz and a symbol of the growing together of the German and Polish sections of the city.


back to top