Inhalt
Family & Society
How are Familiy Structures changing in Saxony?
In Saxony, an increasing change in the way of life has been observed over the past few years. Two trends in particular have become apparent: The number of individuals per household is decreasing, while the types of communities are growing ever more diverse. The traditional family unit, in which the marriage partners live with their growing children in one household, is losing importance. When couples decide to get married, they do so at a significantly older age.
Communes, patchwork families, single parent families and partnerships have taken the place of the traditional family unit. An important aspect in viewing family structures is the increasing number of individuals living alone. Singles today can be either young and adventurous, or widowed, divorced, older, and even very old, lonely individuals.
Average Age for first Marriage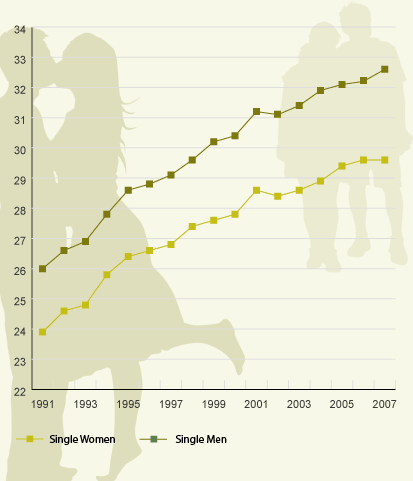 What does the Demographic Change mean in Terms of Life in Society?
The family has traditionally fulfilled an important social responsibility. The co-habitation of several generations, for example, provided the option of looking after young children or caring for older or sick relatives. Due to the changes in family structures, and the associated lessened availability of caregivers within the family, these services must be increasingly substituted with public or private services.
How long will this Process of Change last?
There is no reliable data available on this topic. One thing is however already apparent today. Demographic change is a long-term process, which affects all of society. Even if the birth rate increased dramatically immediately, the shift in age structures, which has become more and more apparent over the past 60 years, could only be corrected at a very slow rate.