Inhalt
Culture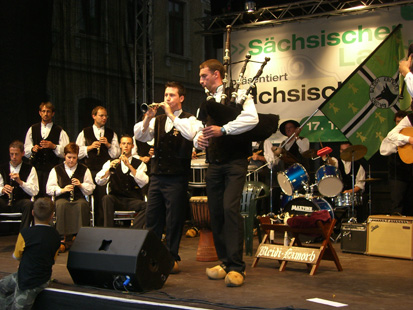 Every year, a group of musicians from Brittany is invited by the State Chancellery of Saxony to take part in the Day of the Saxons. These are the so-called »Bagads«, folk music groups who play traditional Breton pieces, mostly with four instruments. The instruments are Scottish bagpipes, a Bombarde (thunderbox), a small drum, sometimes of tin, and a larger drum or other percussion instruments. The bands always delight the audience with their music. The bagpipes are a reminder of the Celtic influence on Brittany.
»Germany and China – Moving Forward Together«
Since 2007, a series of events has been organised around the theme: »Germany and China – moving forward together«. Their objective is to promote mutual understanding as the basis for successful cooperation. Part of this series was an event in October 2009 in Wuhan, the capital of Hubei, Saxony's partner region. The state government is currently preparing Saxon contributions to this year's event in Wuhan and its »German promenade«.

From the first performances in 2007/2008, the predominantly Chinese public showed great interest and enthusiasm.


back to top