Inhalt
Landscape
The Saxon Lowlands
This includes the north Saxon plains with an elevation of around 100m above sea level in the north, rising to around 160m in the south. This landscape has in part changed substantially over time through the spread of coal mining.
The Leipzig valley bight extends like a lake deep into the central Saxon hill country and provides excellent irrigation. The eastern part of the lowlands consists principally of the moors and pools of the Upper Lausitz area. Further north, more reminders of the coal mining history remain.
The Saxon Hill Country
The Saxon Hill Country reaches heights between 120m and 280m above sea level. It stretches from the Leipzig area via the central Saxon Mulde-Loess Hill Country to the hills and mountains of West Lausitz, and extends into the eastern Upper Lausitz area up to the Polish border.
The massive layer of loess sediment provides fertile soil for agriculture, a prime example of which is the »Lommatzscher Pflege«.
The Saxon Highlands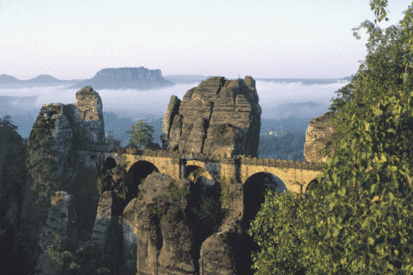 The Saxon highlands include the Vogtland, the Ore Mountains, the Elbe Sandstone Mountains, the Upper Lausitz Hill Country, and the Zittau Hills (the smallest highland area in Germany). Saxony's highest peak is the Fichtelberg in the Ore Mountains, rising to 1,215m. While sandstone predominates in the Elbe and Zittau Mountains, while the plateaus of the Ore Mountains are topped by basalt peaks. The Ore Mountains were an important area for mining due to their valuable deposits, notably silver and tin, both of which have been mined since the 12th century.
Rivers and Lakes
Saxony is criss-crossed by a total of 15,389 km of flowing water. The largest, the Elbe river, runs through Saxony for 180km. Other major rivers include the Freiberger Mulde and Zwickauer Mulde, which flow together to form the Vereinigte Mulde, as well as the Lausitzer Neisse, the Spree, and the Weisse Elster.
The largest areas of standing water are man-made reservoirs. They resulted from the damming of water in the rivers (reservoirs) or flooding of the mining shafts. The Quitzdorf reservoir in east Saxony is currently the largest Saxon lake, covering 7.5 km². The Eibenstock reservoir has the greatest capacity with 75 million cubic meters of water, protected by a 51.3m high dam wall, itself the largest in the state. The Bärwald Lake in Lausitz, a former open-cast mine, will become the largest lake in Saxony with 13 km² of surface area, once the flooding is complete in 2010. The Berzdorf Lake, also in eastern Saxony, will have the largest volume (387 million m³) when flooding is complete.

back to top