Inhalt
The Sorbs - Much more than Folklore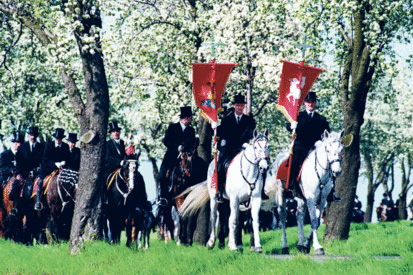 The Sorbs, a national minority of western Slavic origins, are found in Saxony as well as in the neighbouring state of Brandenburg. Visitors to the Lausitz region will soon notice the bilingual inscriptions on street signs, town signs, and the company names above the shops. Particularly around Easter, you can find people in traditional dress, celebrating local traditional festivities and customs, e.g. the 'Easter Ride' in many communities in the area, or the beautifully decorated Easter eggs.
Around two-thirds of the roughly 60,000 Sorbs live in East Saxony, with Bautzen their cultural centre. The culture of the Sorb people is explicitly protected by the state constitution. Religious life is of central importance for the Sorb people, with either the catholic or protestant faith dominating the respective region. The Domowina, the umbrella organisation for Sorb associations and clubs, has its headquarters in Bautzen.
The Sorb language is an important part of Sorb identity. In some districts it is used in everyday life and spoken by families at home. Sorb language, art and culture are all actively encouraged, especially in kindergartens, schools and other Sorb institutions and associations.

back to top