Inhalt
The Landtag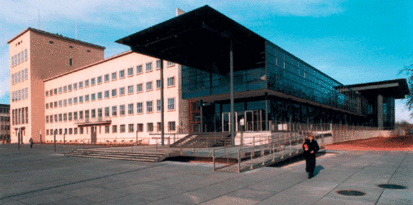 Saxony became a state of the Federal Republic immediately after the GDR acceded to the federal constitution on October 3 1990. Landtag elections were held immediately on October 14. After the elections of September 11, 1994, the legislative period was extended from four to five years, so the following elections took place on September 19, 1999, September 19, 2004 and August 30, 2009.
The highest body of representation for the people is the Saxon Landtag (Parliament). The constitution describes the Landtag as »locale for the formation of political will«, and the Landtag is tasked with both legislative power and the power to control executive bodies. The normal five-year period of office can be shortened if two thirds of its members vote to dissolve it.
The Landtag is supplemented by a three-stage process of direct democracy. Popular intiatives, requiring 40,000 votes, begin the democratic process. If the parliament rejects the initiative, 45,000 voters by further petition can force a referendum, where a simple majority suffices.
The Prime Minister and state ministers are elected by the Landtag, and form the state government as the highest executive body of the state. The government can only be brought down by the Landtag electing a new prime minister (known as a constructive vote of non-confidence).

back to top