Inhalt
Saxony the Free State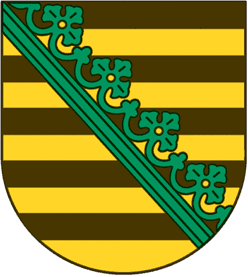 After the collapse of the monarchy in November 1918, the Saxon Republic was founded on November 10th of the same year and the king abdicated three days later. The newly elected People's Assembly ratified the 'Provisional Constitution for the Free State of Saxony' on February 28th, 1919, and this title remained when the constitution was confirmed. Saxony is the oldest Free State in Germany.
The denomination »Free State« corresponds to the French term »république«. This emphasises the fact that the state is not governed by a sovereign, but rather by its free citizens. It was a fashion of the time to »Germanise« foreign terms, and the term »Free State« was kept on instead of »republic«.
The title of Free State, and most of all the parliamentary democracy on which it is based, remains intact until the implementation of the »Law for coordination of the individual states with the Reich« of March 31, 1933. The reintroduction of the states on the territory of the GDR in 1990 was intended to refer back to the original democratic tradition. The Free State of Saxony does not have any privileges or legal peculiarities which would distinguish her from other federal states, but does have much older state traditions.

back to top