Inhalt
Cultural Development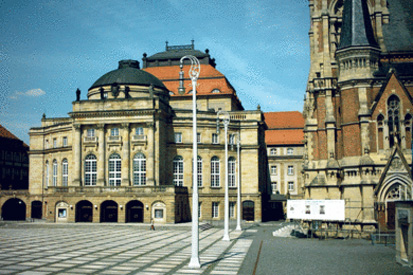 Saxony has grown as a centre of culture over hundreds of years. The state art collections are known far beyond its borders for the unique variety and complexity of the works on display. Saxony was the home of composers such as Johann Sebastian Bach, Carl Maria von Weber, Richard Wagner and Felix Mendelssohn-Bartholdy, and famous orchestras continue to play the works of the masters. New directions in the performing arts also had their beginnings in Saxony: Caroline Neuber (1697–1760) reformed the German theatre sector; Gret Palucca founded the modern Expressionst dance in the 20s in the last century.
From 1900, centralised structures for cultural activity in Saxony were replaced by pluralism, but it was nonetheless seen as important to retain the rich cultural legacy. In 1993, the Saxon Landtag ratified a law on local cultural areas in Saxony to strengthen the regional level at first only provisionally, but in June 2008 confirmed as a permanent arrangement. This involved the state working with five rural and three urban (Chemnitz, Dresden, Leipzig) cultural areas to finance the promotion of communal institutions and initiatives in the regions. The total state assistance comes to around 86.7 million euro per year. Saxony finances state institutions like museums, theatres and orchestras with around 82.5 million euro per year, and also supports private museums, as well as the independent cultural work of composers, musicians, actors and performing artists, film-makers, authors and the socio-cultural activities of many associations.
Diverse cultural life in the regions only thrives if there is a broad basis of voluntary activity from many associations and foundations. Around 6.4 million euro are made available for the support of general art and culture, of which around 2.4 million euro are channelled through the Cultural Foundation of the Saxon Free State. The Saxon music schools receive five million euro a year in support.
The Sorbs maintain their traditional art and culture through numerous theatrical companies, choirs and associations. Among the important institutions are the Sorb National Ensemble, the Domowina Bautzen publishing company, the Sorb Museum in Bautzen in the Ortenburg Castle and the WITAJ language centre. The Sorb language is also kept thriving through its own newspapers, magazine and books as well as Sorb radio and television broadcasts. The state government supports these activities jointly with the federal government and Brandenburg state, providing a total of 15.6 million euro a year. The Free State is the state with the highest cultural expenditure in Germany, reaching a total of 98 euros per person and 2.4% of the state budget.

back to top