Inhalt
The Saxon State Budget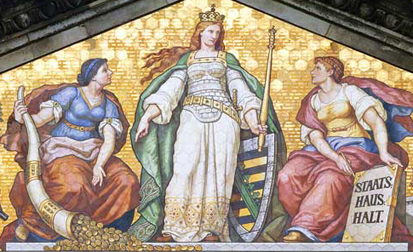 No Money no Honey!
Future generations will only be guaranteed to be left a solid financial basis without an unpayable mountain of debts if we create an investment rate in line with development, and in conjunction with as little as possible new debts. That is why the Saxon state government practices a sustainable financial policy.
The Saxon Two-Year Budget
Saxony has been developing a two-year state budget to be passed by the cabinet since 1999. The biennial budget is then introduced to the Saxon parliament for discussion and decision. It passes into law, once the parliament is in agreement.
Medium-Term Fiscal Planning
The Saxon State Ministry of Finance creates a medium-term fiscal plan each year. The role of this fiscal plan is to account for possible developments beyond the current time horizon, and to provide a certain flexibility for political movement for the Saxon state government by planning official spending carefully.

back to top