Inhalt
Recreation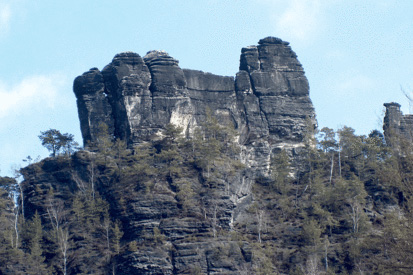 The centres of toymaking and folk art in the Ore Mountains hold a very particular attraction for visitors during the Christmas season.. Artful carving and turning, and specifically lacemaking traditions give the region around Seiffen the reputation of being a stronghold of arts and crafts. In winter, the region almost infallibly offers plenty of snow for winter sports, and in the summer extensive hiking routes through mountains, fields and forests beckon nature enthusiasts. Neighbouring Vogtland is particularly renowned for its lacemaking around Plauen and instrument building in the »Music Corner«. Tourist attractions in this area include the many winter sports options, the Vogtland Arena with its modern ski jump, the Saxon State Baths (Staatsbäder), reservoir dams, and Göltzschtal Bridge, the largest brick bridge in the world.
With the northernmost vineyards in Germany, the Saxon Elbland region near Dresden offers, in addition to the highly-rated wine, a varied and hilly countryside. Culturally, the area offers a great variety of museums, castles and historical buildings. The appealing »Valley of the Castles« offers pleasant locations and unspoiled spots, as well as adventure baths and the metropolitan centre Leipzig.
Both around Leipzig and in Upper Lausitz, the vast lake areas that resulted from the recultivation of the former coal mining sites have become popular destinations for fans of active nature and water holidays. In Upper Lausitz and Lower Silesia, the typical half-timbered houses, the pottery houses, damask weaving houses, »Blaudruck« textile facilities, and the beautiful forests and natural bathing spots are popular destinations.
The National Park Saxon Switzerland at the heart of the Elbe sandstone hills, offers hikers, climbers and scramblers unique options for relaxation and active recreation. Saxony's large nature preserves, the Upper Lausitz Biosphere Preserve Heath & Wetlands (Biosphärenreservat Oberlausitzer Heide- und Teichlandschaft) and the two nature parks Erzgebirge-Vogtland and Dübener Heide invite the visitor to enjoy intensive nature experiences on well-marked hiking, cycling and riding paths.

back to top