Inhalt
Celebrations & Festivals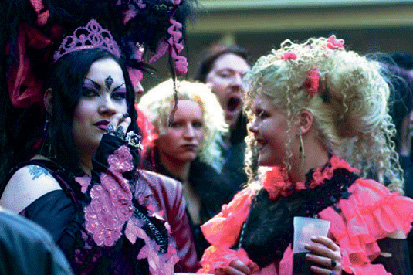 Traditional popular and folklore festivals are as much part of Saxony as are the numerous events for youth and trendy culture – a colourful mix devoted to different genres and eras.
Only a small selection can be mentioned here: The Sorb ethnic group celebrate »marriage of the birds« (Vogelhochzeit) on January 25th, where birds give thanks to the children for feeding them through the winter months. Sorb riders festively adorned for the »Easter ride« celebrate the message of the reincarnation of Christ in festive processions on Easter Sunday. The international pub festival »Honky Tonk« attracts thousands of visitors to Leipzig in May, while in Dresden jazz is the theme at the international Dixieland festival. Whitsun is the date for Europe's biggest Wave-Gothic meeting in Leipzig, while June attracts guests to the international get-together of »Trabi« drivers in Zwickau. In August, thousands of fans of hip-hop and reggae meet uo for »splash!«, the largest event of this kind in Europe. The residents of Plauen celebrate the »Vogtland family festival« (Vogtländisches Familienfest) as their main event in June.
The largest folk festival in the Free State however, is the »Day of the Saxon«. The first weekend in September of each year sees another Saxon town or city hosting this most important day for clubs and associations in the Free State. Traditions and customs handed down from father to son are highlighted here in a colourful programme, underlined with regional delicacies and a parade. In June, at the Bergstadt Festival, and on the second advent Sunday, the traditional »Mountain Parade« (Bergparade) can be seen in Freiberg. The Schneeberg residents celebrate the »Lichtel« festival on the second advent Sunday, as a lead-up to Christmas. Countless traditional Christmas markets, including the oldest Christmas market in Germany, the Dresden »Striezelmarkt« (first mentioned in 1434) offer seasonal ambiance and will get anyone into the mood for Christmas!
Town festivals, steamship fleet parades, steam locomotive festivals, castle festivals, bridge festivals, or rubbing shoulders with international stars in Leipzig: there is always something going on in the Free State. The best-known events in Saxon cultural life include:
International Gottfried Silbermann days and contests (church organ music, with main focus on the Freiberg cathedral)
Dresden music festival (classical and contemporary electronic music)
Dresden days for contemporary music (modern music)
Chemnitz encounters (topic: music and performing arts)
Zwickau music days (in honour of Robert Schumann)
Bach festival Leipzig (annual) and international Bach competition (biennial)
euro scene leipzig (avant garde festival of professional independent theatre groups from Europe)
Mid Europa festival (cross-border music festival)
Dresden film festival
International festival for animated and short films
International Leipzig documentary and animated film festival
Film night on the banks of the Elbe (big-screen projections and concerts in Dresden)
Chemnitz children's film show »Schlingel« (international children's film festival)
Saxon literature days (every two years in a different cultural centre)
Leipzig literary autumn
Kamenz Lessing days
Dresden days of lyrics
Leipzig book prize for European interaction
International folklore festival Crostwitz
Saxon amateur theatre days

back to top