Inhalt
Fortresses, Castles & Gardens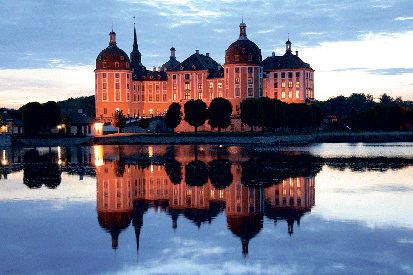 With its castles, fortresses, and gardens, Saxony has some of the richest and most varied cultural landscapes in Europe. Around 70 of these facilities are owned by the Free State. The public enterprise »Staatliche Schlösser, Burgen und Gärten« (Public Castles, Fortresses, and Gardens of Saxony) was established in 2003, with 19 of the most important sites for cultural history. Another four historically valuable castles have been managed since 2000 as independently operating businesses.
World famous sites in Dresden include the Zwinger palace with the Semper picture gallery, the Brühl Terrace, Pillnitz castle and gardens and the Grosse Garten (great gardens). They are shining examples of the palatial style of the Saxon Prince-Electors of the baroque and rococo periods. Moritzburg Castle lies north of Dresden, surrounded by extensive landscaped and wetlands. It was built in the 16th century by Prince Elector Moritz and is famous for its leather tapestries, the unique Feather Room, its historic antler collection, and its pheasantry in the adjacent rococo castle. Albrecht Castle in Meissen has special connotations as the »cradle of Saxony«. Built in 1471, it represents the transition from the fortresses of the late Middle Ages to the construction of castles. Also in this region are Nossen Castle and the cloister park Altzella. In keeping with the taste of the romantic period, a park of ruins was constructed on the remains of a former Cistercian nunnery.
Augustenburg Castle, built as a renaissance castle in the Zschopau Valley under Prince-Elector Augustus I, bears witness to the wealth of Saxony at the height of the silver mining period. Scharfenstein Castle, Lichtenwalde Castle and Augustenburg Castle form the »Must-see Three«, a great attraction, drawing countless tourists to the region. As the former home of King Johann, Weesenstein Castle in the Müglitz Valley stands out for its unusual architecture, authentic furnishings and a valuable library. Kriebstein Castle in the Zschopau valley, Gnandstein Castle in the Kohren region, and the ruined Stolpen Castle remind visitors of the tradition of Saxon nobles going back to the Middle Ages. The origins of the castles Rochlitz, Colditz, and the fortress of Mildenstein in the Mulden Valley in part reach back as far as the Staufer period. The baroque castle of Rammenau is an example of the tradition and way of life of the Saxon country aristocracy, and is noted for its classical rooms, in particular the Hall of Mirrors. Königstein Castle has a particular distinction among Saxony's castles through its exposed position and its past military significance. It is Germany's largest castle complex at 9.5 hectares in size.

back to top