Inhalt
Education System
Chances for all – the Saxon School System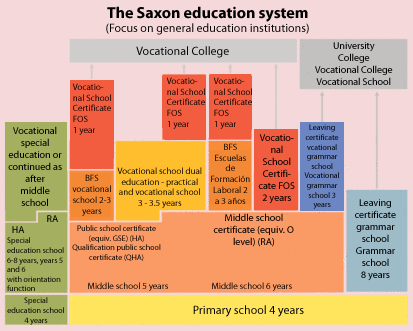 The Saxon school system is as varied as individual educational needs. Following the motto »Everyone is important!«, the Saxon school system gives everyone a chance. Saxon schools lead to success in quite different ways, though each successful completion of a stage gives access to further education. Variety, accessibility and interconnectivity are central features of the Saxon school system.
Schools for general education are divided into primary schools (years 1-4), secondary schools with main and vocational streams (years 5-9 and 5-10 respectively) and grammar schools (years 5-12). Special needs schools also offer general education. Full-time compulsory education lasts for nine school years; compulsory vocational school education normally for three years.
In the fourth year of primary school, all children receive a recommendation for further education at secondary school or grammar school.
The secondary schools provide a general education to prepare for a trade. They offer many possibilities for the encouragement of individual achievement as well as the development of specific pupils' interests. This lays a good foundation for further professional education. After successful completion of secondary school at the end of year 10 and attainment of specific required achievements, it is possible to transfer to year 10 of a general grammar school or year 11 of a professional grammar school.
The grammar schools lead, after eight years, to the leaving certificate and make it possible to proceed to further education. The certificate, recognised throughout Germany as sufficient for university access, is completed after 12 years in Saxony, or after 13 years in professional grammar schools.
The range of schools preparing for trades and professions covers five different types. Vocational schools and colleges provide a variety of qualifications and, in special one-year courses, prepare for a professional education or career.
Specialised secondary schools and professional grammar schools build on the secondary school certificate and completion qualifies the pupils for further study.
Technical colleges are designed for further professional education. The state schools preparing for trades and professions are orgainsationally grouped in professional school centres, ensuring complete coverage of educational provision to meet the range of needs. Professional education also includes many independent schools, enriching the Saxon school landscape.
Special Needs Schools
Some pupils, despite special assistance, cannot be integrated in mainstream schools due to one or more functional disabilities. These pupils therefore need special educational help attend the special schools for general education.
Types of special needs school include schools for pupils who are blind or have impaired vision, schools for pupils with hearing disabilities, schools for pupils with mental disabilities, schools for pupils with physical disabilities, schools with special educational assistance, schools for children with speech defects, schools for educational support and clinic and hospital schools. Except in the schools for educational support and schools for pupils with mental disabilities, it is possible to achieve the secondary school leaving examination.
Support for gifted Children
Children in Saxony are considered to be gifted if they achieve above-average results in a particular field. This could, for example, be an exceptional understanding of languages or outstanding sporting achievements. Encouragement of gifted children in primary schools is mainly provided by those schools that include individualised educational opportunities for particularly talented pupils. Subsequently, deeper mathematical/scientific, musical, sporting or linguistic education is offered by 22 Saxon grammar schools for particularly gifted pupils. In 2001, the state-wide grammar school St. Afra zu Meissen was opened to offer support for pupils with particular ability and multiple talents.
Another form of further education, unusual because it is cross-border, is offered by the binational and bilingual streams in the grammar schools in Pirna and Görlitz. These provide joint tuition from year 7 on to German and Czech pupils and German and Polish pupils respectively.
The advisory office for the support of gifted children in Meissen has been assisting interested pupils, parents, teachers and schools since February 2008.
Adult Education & Continuing Education
Adults in work can complete a secondary scool certificate through two- or three-year courses in secondary school evening classes. The evening grammar school qualifies adults for the grammar school-leaving certificate in 3-4 year courses, as do the colleges with 3-4 years of full-time education.
In addition, 38 recognised further education establishments (adult evening classes and other independent establishments) offer all citizens (children, young people, adults and pensioners) a wide variety of further education.
Colleges & Vocational Academies
The Saxon colleges provide highly qualified education. As part of the restructuring after the end of the GDR, 22 former state colleges were converted into four universities, a university-level institute, five art colleges and five polytechnics.
Leipzig University, founded in 1409, is traditionally focused on science and the arts. Goethe, Lessing and Nietzsche all studied here.
The Technical University of Dresden substantially extended its range of subjects after 1989, through the incorporation of the former medical academy »Carol Gustav Carus« and the college for transport as well as the establishment of several new faculties. With Leipzig University, Dresden has the largest number of students in Saxony. Considerably smaller numbers attend the Technical University of Chemnitz, the Technical Mining College of Freiberg (the oldest mining university in the world) and the International Institute of Zittau, a university-level establishment in the Euro region Neisse for students who have completed their initial studies at Polish, Czech or German universities. The polytechnics evolved from former special and engineering colleges, and are strongly practically oriented in research and teaching. They started in the winter term of 1992/93.
The Saxon Polytechnic, with its six state academies, provides education integrated with practice in the Saxon tertiary education sector.
In addition, Saxony has eight special privately run colleges, as well as the Business College in Leipzig, the College for Church Music of Dresden, a professional college for administration and a police academy under management of the Home Office.
In total, there are currently 25 colleges in Saxony with 107,569 students (winter term 2007/8).

back to top