Inhalt
Media Landscape
Daily Newspapers
The Saxon newspaper sector reflects the structures of the media landscape since 1945. The former Socialist Unity Party (SED) local papers were sold to large media companies in the West after 1989. Smaller publications had to struggle hard to survive. The Freie Presse, the newspaper with the largest circulation (307,643) is sold in Chemnitz and surrounding areas. 307.643). The Sächsische Zeitung is published in Dresden and surrounding areas 280.320). The Dresdner Neueste Nachrichten, the Torgauer Zeitung, and the Muldentalzeitung share the non-regional part of the Leipziger Volkszeitung (total circulation 237,857). The only paper in Sorb language, Serbske Nowiny, is published in Bautzen, with a circulation of just under 2,000. The Vogtland-Anxzeiger ( 8.307) is operated under the umbrella of the Bavarian Frankenpost. The only successful newcomer on the Saxon publishing sector since 1989 is the Morgenpost, distributed through street sales in Dresden and Chemnitz. It operates under the umbrella of the Berliner Kurier, and competes with the BILD-Zeitung, which complements its nationwide coverage by local news in the larger cities.
(Source for circulation figures: IVW 2008)
Public Broadcasting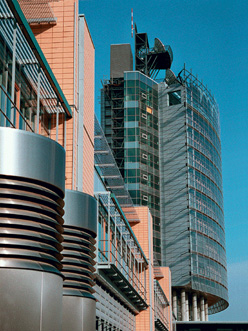 The »Mitteldeutsche Rundfunk« (MDR - Central German Broadcasting) has been based in Leipzig since its foundation in 1991, and serves the three states of Saxony, Saxony-Anhalt, and Thuringia. Professor Udo Reiter has managed the MDR since its inception. A »third« TV channel (in addition to the national ARD and ZDF programmes) and five radio stations are produced here for the three states. Since 1997, MDR FERNSEHEN has been the most successful »third« programmes of the ARD, with 8.9% of the audience share in its target area. The MDR is a member of the ARD joint programme »Das Erste«, and provides 11.05% of the broadcasts (2007). Contributions from local broadcasters on regional news and events are shown in regional slots (the magazine programme for Saxony »Sachsenspiegel«).
There are four regional studios in Saxony in addition to the main broadcasting house in Dresden. Two of the most successful MDR programmes in addition to the »Sachsenspiegel«: »Elephant, Tiger & Co« and »Riverboat«. Particularly popular contributions to the joint ARD channel have been the series »In Aller Freundschaft« and the crime series »Tatort« and »Polizeiruf 110«. Since 2007, MDR TV has been available through central Germany digitally via DVB-T and in both digital and analogue broadcasts via satellite and cable. The MDR broadcasts five radio programmes: MDR 1 Radio Saxony; MDR Figaro; Jump; MDR Info, and MDR Sputnik via VHF and satellite. In conjunction with the national radio programmes »Deutschlandfunk« and »DeutschlandRadioKultur«, the programme MDR Klassik (classical music) is broadcast.
Private Broadcasting
There is a wide choice of commercial and non-commercial radio and TV programming in Saxony. The licence to broadcast is obtained from the Saxon Institute for Private Broadcasting and New Media (SLM), based in Leipzig. It is one of 14 state media organisations in Germany with the remit of providing a framework to encourage private broadcasters. The SLM is also responsible for supervision and advice for Saxon private broadcasters. This includes decisions on licencing, the allocation of radio frequencies and channels, and permanent monitoring of programmes.
The diversity of Saxon opinion is boosted by the statewide private radio programmes Radio PSR, Hitradio RTL, and RSA, as well as regional TV from Leipzig, Chemnitz and Dresden, and a large number of regional and local TV and radio programmes. Currently, Saxony offers 22 local and regional radio stations, broadcasting on UHF in different regions. In addition, there are around 60 television studios using a variety of methods to reach the public. The SLM has a project, so far unique in Germany, which allows regional and local broadcasters to send their programmes digitally for mobile reception. Two radio and four television programmes have been available in Leipzig in this way since March 2008.
Media Location Leipzig
Leipzig's media production is one of the most important industry sectors in the region, with around 2,100 enterprises in 2007, employing 33,700 staff in total. Most of these enterprises have been able to improve their results steadily in recent years. The centre of media activity in Leipzig is Media City, an office and studio complex close to the MDR, where series like »In aller Freundschaft« and »Polizeiruf 110» are produced, as well as international films. Media City is also the headquarters of over 50 media enterprises.
The Medientreffpunkt Mitteldeutschland (Media Meeting Point of Central Germany), held every year in Leipzig since 1998, is an important cross-media event for experts and decision makers from the entire communications industry. It has a different central theme each year and is the third largest media event in the German calendar, after those in Munich and Cologne. Leipzig is also the seat of the Mitteldeutschen Medienförderung (Central German Media Support - MDM), one of the three central German limited liability companies founded in 1998 to encourage film, television and multi-media projects (the others being MDR and ZDF). The MDM supports on average 100 audio-visual projects a year, allocating a total of 12.5 million euro each year. The money flows back into the region through the companies who receive it. The MDM is the fourth largest regional film support organisation in Germany.

back to top