Inhalt
Students in a Cooperative Education Program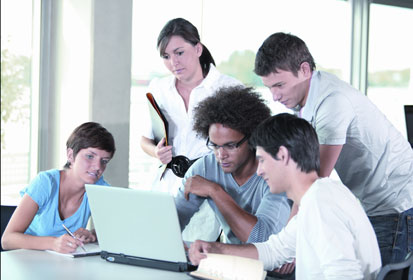 Young well-qualified people with an interest in the sciences are the founding stones for the future interaction of economy of science.
Studies in a Cooperative Education Program are unusually good for market application of theoretical material. They combine the benefits of a university degree and on-the-job training, with a recognized company.
What is a Cooperative Education Program?
There are two types of recognized Cooperative Education Programs:
training-integrated course of studies and
experience-integrated course of studies.
Please note: Inform yourself about the requirements and structure of the Cooperative Education Program by your college/university/academy and/or employer.

Which residence permit is granted?
The residence permit is a temporary right of residence. It is granted for at least one year and at the most for two years, this can be extended.
What are the conditions?
The granting of a residence permit requires that the applicant can show that their means of subsistence is ensured in Germany and that the residence does not infringe or endanger the interests of the Federal Republic of Germany for any other reason.
Who has to agree?
During the Cooperative Education it is possible for the applicant to work for a maximum of 120 days or 240 half days per year without the agreement of the labour administration. Student assistant work is permitted without restrictions, but the responsible municipal or district immigration office has to agree on this beforehand.
Other occupations need the approval of the labour administration. This is obtained by the responsible municipal or district immigration office in an internal process at the competent team of the Federal Employment Agency.
For information on the labour market licensing procedure please call 0228 / 713 2000.
Which additional documents are required?
Apart from the usual documents several further documents are necessary:
matriculation certificate or study reservation certificate [original and a copy],
employment contract or articles of traineeship [original and a copy],
proof of sufficient means of subsistence e.g. by articles of traineeship or promise of scholarship or declaration of commitment by parents or a third party or a security deposit on a blocked account in Germany [original and a copy],
What after successful completion of the PhD Program?
Having graduated from a German Cooperative-Education-Program, you may stay in Germany for seeking employment corresponding to your qualification.
Which forms are required?
Application Form for a Residence Permit

back to top