Inhalt
Vogtland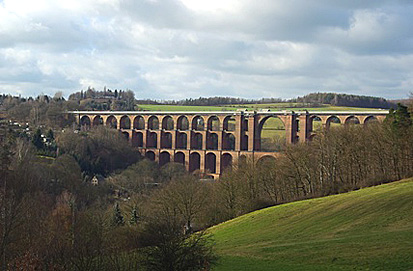 Fine Sounds and Fine Lace
Music is at home in Vogtland. Local people have been building violins, guitars, zithers, French horns and harmonicas in Markneukirchen, Klingenthal and other towns since the seventeenth century. It is why the locals lovingly call it the Music Corner. Local instrument makers market their products collectively under the name Musicon Valley.
The extreme south-east of Saxony is known for its high bridges. The bridge across the Göltsch Valley between Mylau and Netschkau is the largest brick bridge in the wolrd and a high-point of engineering. Workers used 26 million bricks to build up to a height of 78 meters - and a length of over half a kilometer. The bridge was finished after five years of work in 1851. Plauen is the home of another Vogtland product of superior quality: the wolrd-famous Plauen lace.
In 2006, the most modern ski jump in Europe was unveiled in the Vogtland Arena, which now hosts international competitions and world cup events. Cross-country skiers have numerous trails to choose from in the winter. Hundreds of kilometers of well kept routes for walking, cycling and riding attract visitors all year round to the extensive woods and romantic valleys, with their stunning views and impressive historical constructions. Noted spa waters attract increasing numbers of people to the fashionable resorts of Bad Brambach and Bad Elster.

back to top