Inhalt
Western Saxony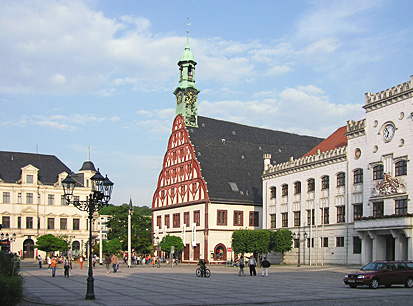 Of Textiles, Trabis, and Turbo Diesel
Zwickau and Crimmitschau have long been famous for making sheets and linen: the fine »Zwickish cloth« was popular across Europe as far back as the sixteenth century. In 1748, Crimmitschau was regarded the capital of European textiles.
The area is not only known for textiles and carvings, however. In 1904, August Horch started an automobile factory under his own name, devoted to the production of luxury cars to the highest technical standards. After a dispute on names, he founded the Audi works in Zwickau, which is the only town in Germany to have produced cars continuously for over a century.
Zwickau was also the home of Trabant. Over three million of these GDR cars rolled off the Zwickau production line from 1957 to 1991. Volkswagen Saxony now manufacture their Golf and Passat models in the Mosel district of Zwickau.
Woodwork is also strongly associated with this area. The Daetz Centre in Lichtenstein displays permanent and special exhibitions of masterly wood carvings: sculptures, relief work and figures from Africa, Europe, North America, Asia and Oceania. Students taking the associated international course in wooden art study here and produce their own carvings in the studio at the Daetz Centre.

back to top