Inhalt
Saxon Switzerland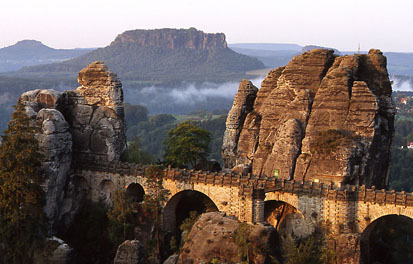 Romance in Climbers' Paradise
Would the German Romantic movement have existed without Saxon Switzerland? Probably. But it would definitely have been a lot less impressive. The wild canyons, bizarre rock formations and elevated table mountains of the Elbe sandstone range inspired painters like Caspar David Friedrich and Adrian Ludwig Richter. Inspired by the wild countryside, they kept returning to paint new locations.
The landscape also attracted the writer Hans Christian Andersen, and the composers Carl Maria von Weber and Richard Wagner. It is quite possible that the Wolf Canyon at the Hockstein inspired Weber for the scene of the same name in »Freischütz«. The open-air stage in Rathen, dominated by the towering cliffs above, is still the ideal location to perform this folk opera.
However, the mountain landscape serves as more than just a backdrop. Walkers can follow the footsteps of Richter and other artists on the 112-kilometre Painter Road along the Elbe sandstone range. This, like numerous other local walking routes, ranges from comfortable forest roads to narrow paths and steep ascents that are almost vertical to the cliff face.
In addition to the beauty of the countryside, many climbers look for a sporting challenge in Saxon Switzerland. Free climbing (ascent with safety ropes, but without any climbing tools) has a longer tradition in Saxon Switzerland than anywhere else. A style of climbing has emerged in this unique landscape that respects its ecological sensitivity and is religiously followed by all climbers, Saxons and visitors alike.
It is a thrill that makes Europe's largest free climbing area as unique as the scenery that surrounds it.

back to top