Inhalt
Saxon Elbe Region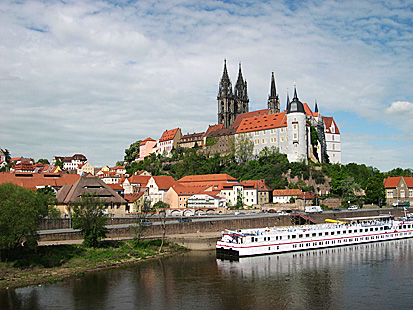 Of Grapes and Roses
The Saxon wine route links walking routes along around 90 kilometers of the finest Saxon vineyards. In one of the most northerly wine-growing regions in Europe, the route leads from vineyard to vineyard, via the most beautiful vantage points for views of the surrounding countryside and the best wine cellars between Pirna and Meissen.
Meissen also boast Europe's oldest porcelain production. Even today, craftspeople still paint the traditional blue swords by hand on the valuable porcelain. Because of its 1,000-year history, the cathedral town is also known as the 'cradle of Saxony'. The home of Karl May, the bestselling author of the Winnetou books, is in Meissen and has now been turned into a much visited museum for Winnetou enthusiasts of all ages and nationalities.
Torgau became famous on April 25th 1945, when American and Soviet troops met in the town by the Elbe, repeating their encounter for the cameras the following day. In addition to the photographs themselves, Torgau's annual Elbe Day celebrates this historic moment.
One of the last artficial flower factories in Germany is located in Sebnitz. Roses and other flowers – with or without thorns – are produced there daily.

back to top