Inhalt
Saxon Burgenland & Heath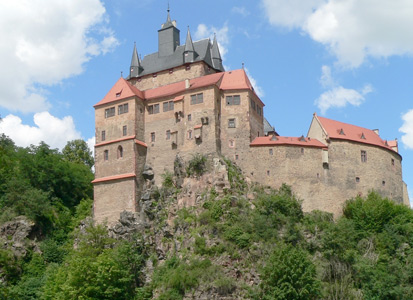 Rugged Cliffs and gentle Streams
»The whole area looks like a moving sea of earth. There are ripples everywhere, each one bolder than the last.«, wrote the famous German novelist and poet Heinrich von Kleist, after visiting the Saxon heath lands.
Today, the Burgenland (land of castles) remains one of the most stimulating holiday destinations in Saxony. The Dahlen heath, the Wermsdorf forest and the Elbau countryside offer a relaxing break close to nature, but with an excellent network of hiking trails.
The »Valley of the Castles« is rich in history and folklore. The palaces and castles along the river Mulde blend into the enchanting natural surroundings, while Glauchau boasts a picturesque position on seven hills on the right bank of the river. The Rochlitz mountain used to be an active volcano and for over 1,000 years the loose ashes were sealed into a striking natural material used to illuminate numerous churches, castles, palaces, mills and bridges in the area.
The Zschopau river near Waldheim cuts up to 70 meters deep into the high plateau and creates a wildly romantic landscape. Rugged cliffs, narrow valleys, wooded precipices and gentle streams alternate dramatically. The 600-year old Kriebstein Castle towers over a steep cliff high above the river.
An attractive lake landscape has developed near Leipzig in the last few years, as the result of the flooding of a former open-cast mine. Watersports fans and those seeking complete relaxation will find the »New Saxon Lakeland« very appealing.

back to top