Inhalt
Upper Lausitz/ Lower Silesia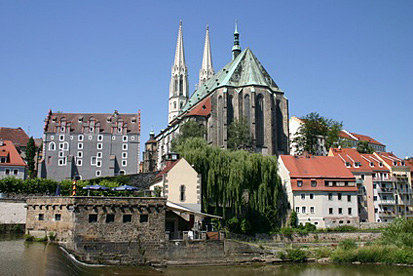 From Six-State Federation to European Region
As far back as 1346, the citizens of Kamenz, Bautzen, Löbau, Zittau, Görlitz, and the now Polish Lauban decided that their political and economic interests would best be served by a six-city federation.
It comes as no surprise to find that these towns today form part of the cross-border European region of Neisse. Upper Lausitz and Lower Silesia and their Polish and Czech neighbours are intensifying their contacts in the European region and benefit from their economic cooperation.
Furthermore are Bautzen, Görlitz, Zittau, and Kamenz great examples for mediaeval architecture. Because of the well preserved town centre, Bautzen residents proudly call their home town the »Saxon Nuremberg«. Görlitz found a silver lining in misfortune in 1525: a fire left the town in ashes, but the resulting new buildings, in early Renaissance style, today provide a unique architectural representation of the period.
Those looking for superlatives in addition to the sights of the heath and wetlands between the rivers of Spree and Neisse, the half-timbered houses of Oybin, and the Pückler Park in Bad Muskau, will revel in the beauty of the Bärwald Lake, the largest body of water in Saxony, and in Görlitz, the eastern-most city in Germany.
Around 35,000 Sorbs live in the region and speak their own language. Crucifixes displayed at the side of the road and in front gardens testify to popular (mostly Catholic) piety, as do the well maintained churches and chapels in the area between Bautzen, Kamenz and Wittichenau. The traditions of this Slavic ethnic group, now settled in Saxony for over 1,500 years, include the Easter Ride, in which riders festively clad in tail coats and top hats celebrate the message of the reincarnation of Christ.

back to top