Inhalt
Ore Mountains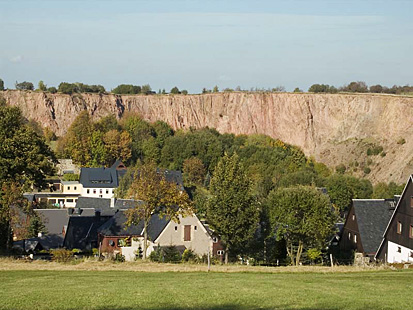 Mountain Life
It was in 1168 that a silver deposit was first struck in the vicitiny of what is now Freiberg. The new-found wealth attracted adventurers, miners, traders and coal merchants to the then sparsely populated Ore Mountains. In addition to silver and uranium, tin, iron, copper, cobalt and zinc were mined in the (roughly 150 kilometer long and 40 kilometer wide) central range.
Due to the sharp decline in mining after the 30 Years' War and the failure to find new deposits, the Ore Mountainers had to diversify into other branches of activity.
Lacemakers met to work together, often singing to pass the time during the demanding needlework. Many songs in dialect resulted, and are still sung today during so-called »hutzen« evenings.
Wood turners initially concentrated on the production of consumer goods: boxes and dishes or pipe-cafes. Only around 200 years later did they start to produce wooden toys, models of pipe-smokers and miners, nutcrackers and angels. At Christmas, windows throughout Germany are decorated with pyramids and Christmas arches typical of the region.
The time of the miners has come and gone. In their stead, visitors now frequent the shafts of the model mines. Leading sportspeople from around the world compete for the fastest times on the bob track on the Altenberg. In winter, the white ski slopes and trails of the Ore Mountains are a favoured destination for amateurs as well as professional athletes.
All year round, watches and clocks with a global reputation are manufacturer in Glashütte. In the industrial centres around Freiberg, Chermnitz, Aue, and Zwickau, many people work in metallurgy, toolmaking, machine engineering, and the automotive industry. Many still use the traditional miner's greeting: »Glück auf!« (roughly »Good luck!«).

back to top