Inhalt
Dresden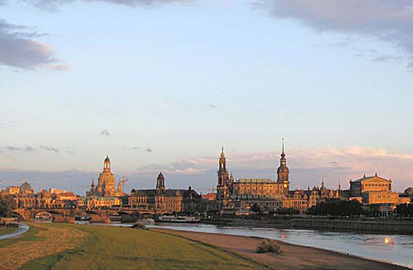 Culture & Hospitality
»There lies Europe«, said the Dresden-born author Erich Kästner about his home city. That might be an exaggeration. However, one thing is certain: Dresden does not hide its qualities. It wants to welcome people from all over the world.
The city on the river: A trip on one the historical paddle-steamers up the Elbe River provides a magnificient view of some of the most northerly vineyards in Europe. A short time later, the left banks of the river reveal the towers of Dresden's old city. The great cuppola of Dresden's restored Frauenkirche cathedral characterises the view.
Close by you'll see the Semper Opera House, the art academy, the Hofkirche court church, and the castle, nestled in Dresden's old city quarter. Due to the closeness of all the fantastic buildings and rich art treasures, Johann Gottfried Herder once called it the »German Florence«.
Saxon regents thought art so important that they did not hesitate to exchange dragoons for vases, and enticed artists from all over Europe to the city on the Elbe River, just to enhance the attraction of the city. As a result, countless treasures can be found here.
Over 40 museums – including the Historic Green Vault (Grünes Gewölbe), the Portrait Gallery, and the German Museum of Hygiene (Deutsches Hygiene-Museum) – and more than 15 theatre stages in contunuous use reflect the cultural wealth of Dresden. Theatre, opera, and other events are hosted at the Semper Opera House and the State Theatre (Staatstheater), while breathtaking porcelain - both new and old masterpieces, sculptures, coins and jewels are on display at the State's Art Collections (Staatliche Kunstsammlungen).
Modern European art can be experienced at the Hellerau Festival Hall (Festspielhaus). Mary Wigman studied rhythmic gymnastics here, and founded a school for modern dance. One of her students, Gret Palucca, became an instructor herself for dancers from all over the world. Young talents are taught from year 5 in the Palucca school of Dresden.
But Dresden is much more than just splendour and culture: her residents appreciate above all her ample green areas, and the wonderful peace down by the river. The city's cosmopolitan outlook and the involvement of local people contribute to the quality of life of the city as much as does the quiet villa district from the Founder Era (Gründerzeit).
Investors from across the globe know Dresden as an innovative and productive location. The dynamic research environment of the area attracts semiconductor manufacturers from all over the world to the region, which has become known as 'Silcon Saxony'. Luxury cars are finished by hand in the Transparent Factory.

back to top