Inhalt
Chemnitz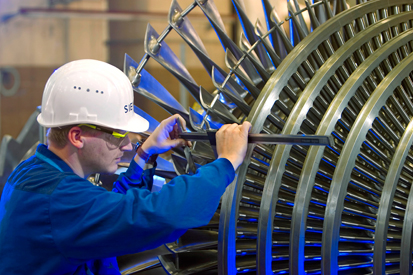 Textiles & Machinery
When the silver mines in the Ore Mountains were exhausted in the 17th century, the miners looked for new sources of income. Some created works of art from wood, others from metal. Inventive engineers built machines, which competed successfully with English products, building a reputation for their city as the German Manchester.
Initially, spinning machines were imported from England. However, the repair workshops in the factories developed into independent enterprises, which built and developed their own textile machinery in time.
Today, the Saxon Textile Research Institute develops innovative materials and markets them worldwide. Heavy industry is dominant in the local and regional economic structure, but the industry for solar power has discovered Chemnitz as a production base as well of late.
All in all, Chemnitz was in recent years one of the ten fastest growing cities in Germany.
Chemnitz residents appreciate both the city centre, redeveloped in 2003, and the extensive woods, green areas and parks surrounding the city. More than 10,000 students fill the auditoriums of Chemnitz University. New products and processes are constantly developed in Saxon laboatories and research establishments, securing the future of the location as a recognised base for research and industry.

back to top