Inhalt
Leipzig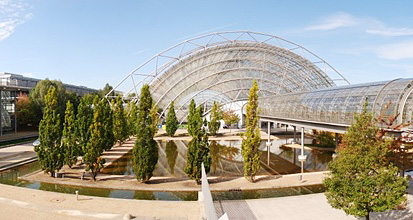 Trade Fairs & Media
Leipzig is all about communication. As far back as the Middle Ages, the main European routes for travel and trade passed through here. The original trading point for Russian furs and German books has evolved to one of the largest trade fairs in the world.

The well-known colleges of the city also benefit from international exchange. Teaching and study goes back to 1409 at the University of Leipzig, the second oldest in Germany. The Leipzig Academy for Book Design and Graphic Arts was established in 1764, and its most prominent student was Johann Wolfgang von Goethe. The pub Auerbach's Keller had the young writer among its customers, and was transported to fame alongside the writer's world famous »Faustus«.
Johann Sebastian Bach was the cantor responsible for the music in the four main churches of Leipzig. In addition to the 'Johannes Passion', he wrote here more than 300 cantata, which are still played annually at the Leipzig Bach Festival.
A diverse publishing landscape and the annual book fair make Leipzig one of the most important centres for printing and publishing. The first daily newspaper in the world, the »Einkommende Zeitung«, was published in early July 1650 by the Leipzig printer Timotheus Ritzsch. Leipzig is today the home of renowned publishing houses, like Brockhaus, Meyer, and Reclam.
In addition to tradition, Leipzig also stands for change. It was the people of this city, with the largest population of Saxony, who gathered in their thousands in 1989 at the Nicolai Church for Monday prayers, and then carried banners through the streets saying »We are the people« and »No violence«. It was their faith in peaceful political revolution that eventually spread to the whole republic and led the way to German reunification.

back to top