Inhalt
State Chancellery of Saxony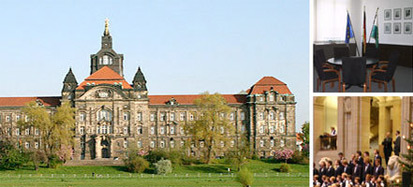 The State Chancellery supports the Prime Minister in his duties. Around 240 members of staff provide the political basis for a cosmopolitan, modern, and innovative Saxony at the heart of Europe.
People & Roles
What does the Head of Government do?
The Prime Minister determines and is responsible for the guidelines of Saxon state policy. He is the international representative of the Free State and appoints ministers and state secretaries.
How does state policy affect citizens?
This question is the main concern for the Chief of the State Chancellery and State Minister Dr. Fritz Jaeckel. He is in charge of coordinating the work of the State Chancellery, the ministries, and the Saxon Landtag. Furthermore, he supports the Prime Minister in policy areas, in which the State Chancellery acts autonomously, e.g. media policy.
Who represents Saxony in Berlin?
Erhard Weimann is State Secretary and Plenipotentiary of the Free State of Saxony for Federal Affairs, and Head of the Representative Office of the Free State of Saxony in Berlin.
Duties & Responsibilities
Responsibilities & Organisation
All threads of Saxon politics converge in the State Chancellery. Here, basic policy guidelines are developed, relations with the federal government and other federal states are maintained, and ratified laws are verified in terms of their constitutionality.
Saxony in Berlin
The Representative Office of the Free State of Saxony (in short: the Representative Office) represents the interests of the Free State on federal level. To this end, it maintains close communications with the German Bundestag, the federal ministries, political factions and parties, and also with representative offices of other states.
Saxony in Brussels
The Saxony Liaison Office in Brussels maintains close contacts with the EU bodies and the Permanent Representations, as well as other organisations and associations of the European Union.

back to top