Inhalt
Buildings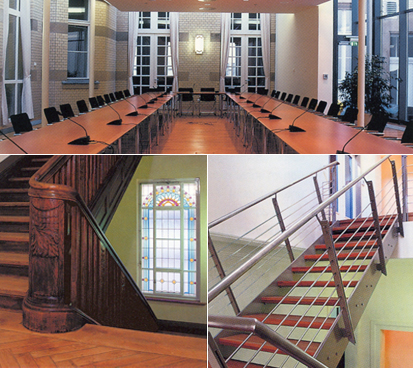 Architectural Features
The building complex of the Representative Office of the Free State of Saxony was originally constructed with a front building, side wing, and a transverse in 1905 by the Berlin-based architects Reimer & Körte. The complex is located on 1016 square meters of land, and is a listed building of Berlin's district Mitte.
It was previously owned by the Berlinische Feuer-Versicherungs-Anstalt. The handsome property was adapted over time to its historical neighbour buildings - the 'Galgenhaus', and the Nicolai House (both are museums of the City Museum Foundation Berlin): The ashlar-clad street facade is decorated with ornaments reminiscent of both baroque and art nuveau styles.
Some of the interior features are notable for architecture enthusiasts as well:
beautiful stucco ornaments on the cross vaults,
oak wooden paneling,
wall decorations of natural stone imitations,
marble tiles floors, and
leaded stained-glass windows.

back to top