Inhalt
Vocational School Students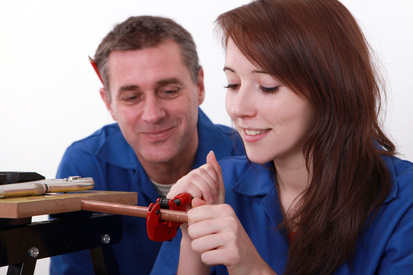 As a high-tech location, Saxony offers various possibilities of vocational education and training. Vocational training in Germany has got a very good reputation worldwide. It imparts the necessary professional competences. Thanks to the good economic development, there are more apprenticeships than applicants in Saxony. Whether IT specialist or office clerk, dental or mechatronics technician – it's up to you!
After completion of training, your career prospects are good. Saxon enterprises and companies need well-trained junior employees and offer attractive jobs.
What is initial vocational training?
Initial vocational training includes education and training according to the German Vocational Training Act (Berufsbildungsgesetz) and the German Crafts and Trades Regulation (Handwerksordnung) and education and training in vocational schools.
Vocational training has the following characteristics,
regulated course of training,
communication of a broad range of basic occupational knowledge,
communication of technical skills and knowledge required for practicing an occupation and
acquisition of necessary occupational experience.
It is generally distinguished between:
company-based vocational education and training (External vocational training takes place at vocational training institutions beyond company-based or school-based vocational training and covers fields of vocational training which cannot be taught at a single company.)
and
school-based vocational training (During school-based vocational training both practical and theoretical training and education take place at a vocational school (Berufsfachschule). Training is supplemented by work placements or on-the-job training.)
Which residence permit is granted?
The residence permit is a temporary right of residence. Usually it is granted for two years. If duration of vocational training is less than two years, the residence permit is limited to the duration of training. In case of continuation of the training contract, it can be extended until the estimated date of completion of training.
What are the conditions?
The granting of a residence permit requires that the means of subsistence are ensured in Germany and that the stay does not infringe or endanger the interests of the Federal Republic of Germany for any other reason.
A residence permit for school-based vocational training can only be granted if the course of training at the training and education institution is not intended for citizens of a particular state only.
PLEASE NOTE:
Please contact training company, vocational school, the Chamber of Commerce and Industry or the Chamber of Crafts for information on acceptance requirements of the respective occupation.
Who has to agree?
Granting a residence permit for vocational education normally requires the approval of the labour administration. This is obtained by the responsible municipal or district immigration office in an internal process at the competent team of the Federal Employment Agency. Approval is given if no applicants with precedence are available for the vocational training (proof of precedence).
Only school-based vocational training courses including compulsory work placements not equivalent to an occupation relationship do not require approval by the Federal Employment Agency.
PLEASE NOTE:
Graduates of German schools abroad do not require approval by the Federal Employment Agency.
As a trainee you can work for up to ten hours a week without approval by the labour administration as long as this job is independent from your vocational training. Further occupation in addition to vocational training is subject to separate approval.
For information on the labour market licensing procedure please call 0228 / 713 2000.
PLEASE NOTE:
A change into another vocational training is only possible with renewed approval inquiry.
Which additional documents are required?
Apart from the usual documents several further documents are necessary:
under age vocational school students: permission of the person(s) entitled to custody,
proof of sufficient means of subsistence e.g. by articles of traineeship or promise of scholarship or declaration of commitment by parents or a third party or a security deposit on a blocked account in Germany [original and a copy],
job-seeking after successful completion of vocational training: if nec., certificate of entitlement to German unemployment benefit (Arbeitslosengeld I) [original and a copy],
What happens after successful completion of the vocational training?
Having graduated from vocational training, you may stay in Germany for seeking occupation corresponding to your qualification.
Which forms are required?
Application Form for a Residence Permit

back to top