Inhalt
Participation via the Federal Government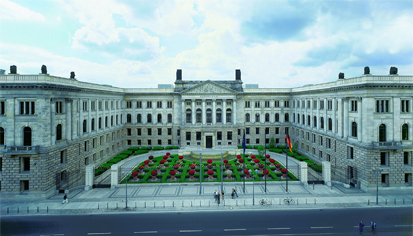 The Free State of Saxony has, as do all the German states, two options to participate in European affairs via the Federal Government: via the German Federal Council and the Ministers for European Affairs Conference.
German Federal Council
The participation rights of the federal statea in EU affairs have been reinforced within the scope of European integration both in content and in format. Of particular importance was the introduction of the 'Europe Article' into basic law in 1992: "The Bundestag, and the individual states via the German Federal Council participate in affairs of the European Union" (Art. 23, Sect. 2 S. 1 GG).
The legislation dealing with the cooperation between federal and state governments in projects of the European Union (EUZBLG), and an agreement between the federal and state governments (BLV) governs relevant details. Resolutions of the German Federal Council adopted in regards to EU projects must be taken into account by the federal government, and the federal government is obliged to represent the positions of the individual federal states in issues, where the legislative powers lie with the federal states. Furthermore, the federal states have the right to conduct negotiations in the areas of education, culture, and radio & television.
Since 2006, the EU Commission has been sending its proposals and consultation papers not only to the governments, but also to the parliaments of the member states. Therefore the German Federal Council, and with it all the federal states, receive these important documents directly and have the option to respond directly to the EU Commission.
Additional Information
European Ministers Conference (EMC)
Due to the growing importance of the European Union, the Ministers for European Affairs founded their own minister conference in 1992: the Permanent Conference of Ministers for European Affairs (EMC). This conference is aimed at coordinating the various states' positions on European policy, and ensuring regular information and experience exchange.
Each of the federal states takes its turn presiding over the EMC for one year in alphabetical order. Saxony's most recent presidency over the EMC was 2005/6.
Additional Information

back to top