Inhalt
Information for Visitors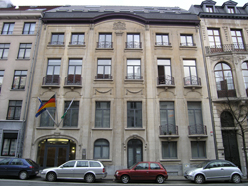 Until August of 1999, the Saxony Liaison Office Brussels was housed in the former embassy of the GDR. Offices of all the new federal states were originally headquartered there. After a few years in a temporary building, the Liaison Office finally moved to premises owned by the Free State of Saxony in Brussels in 2004.
The new Building
The purchase of the property located at Avenue d´Auderghem 67 in Brussel's district Etterbeek, close to the buildings of the European Commissions and the European Parliament, provided a great basis for the effective working of the Saxony Liaison Office Brussels within the European Union.
The four-storey building was constructed in the early 20th century as a Dutch trade and business representative office, with a typical historical Brussel facade. Following the acquisition by the Free State of Saxony, the building's interior underwent an extensive renovation. In addition to function-oriented office workplaces in the three top floors, the ground floor level has been transformed into an event area.
The interior is dominated by understated white on walls and ceilings, and a parquet floor of Saxon oak. The relatively low ceilings were compensated by reducing the false ceilings and integrated lighting. Some wall areas in 'Saxon green' and works by contemporary Saxon artists accentuate the space.
Location
Saxony Liaison Office Brussel on the map:
Anfahrt
How to get to the Office:
from the airport: Bus line 12 or 21 (evening and weekend) to stop 'Schumann'

from Gare du Midi: Metro line 2 or 6 to stop 'Arts/Loi', change to line 1 or 5 to stop 'Schumann'; on foot from Schumann square: approx. 7 minutes walk, or take bus line 36 to stop 'Nerviens/ Nerviërs'
Brussels public transport homepage:

back to top