Inhalt
Digitalisation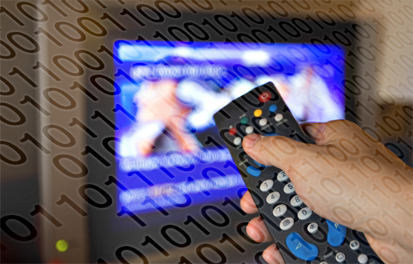 Transmission capacities for radio and television are limited, and digital transmission technologies require less capacity than their analog counterparts. The background for digitalisation is - in addition to an improved transmission quality, and the opportunity to receive more local interest channels - the economical use of the limited resource of transmission capacity, which our modern society utilises increasingly for mobile applications, e.g. mobile radio and mobile internet.
Digital Radio
While digital processes have been a standard in studios and production sectors for quite some time, the digitalisation process of dissemination channels for radio signals is still ongoing.
Currently, digital radio signals are transmitted via DAB/DMB, DVB-S, DRM and the internet. These processes facilitate the transmission of significantly more programmes, faultless reception, improved sound quality, and a more efficient utilisation of the available transmission capacities.
In additional to audio data, digital radio with multiplex signal can simultaneously transmit programming information in direct connection with the currently transmitted programme, e.g. the title of the track and the artist, or information with no direct relation to the programme, e.g. news, weather, or traffic updates.
Digital Terrestrial Television
Digital terrestrial television (DVB-T – Digital Video Broadcasting-Television) has step by step replaced the traditional analog transmission process during the past few years. With the so-called 'Everywhere-TV', you can now receive up to 30 stations directly in your home - without the need for cable connection or a satellite dish.
From a technical point of view, this has become feasible because DVB-T can utilise existing frequencies more exhaustively: In effect, up to four programmes are transmitted via one single channel. Image and sound quality are mostly better quality than in analog television, surround sound, like Dolby Digital, high definition television (HDTV), and in future even interactive television have become possible.
Saxony was one of the first federal states to change over terrestrial television programming from analog to digital in 2007. The offerings provided by ARD, ZDF, and MDR can only be received digitally since then. In Leipzig - and in future in many other regions of Saxony - a number of private and regional TV programmes are also transmitted via DVB-T.
Digital Video Broadcasting
DVB-H (Digital Video Broadcasting-Handheld) provides digital broadcasting for handheld mobile devices, including mobile phones. DVB-H is a terrestrial broadcasting process, just like digital terrestrial television DVB-T, and is based on the same technology. As yet, no DVB programming is available.

back to top